Shields, Norton complete remarkable turn with 3-2-1A State Titles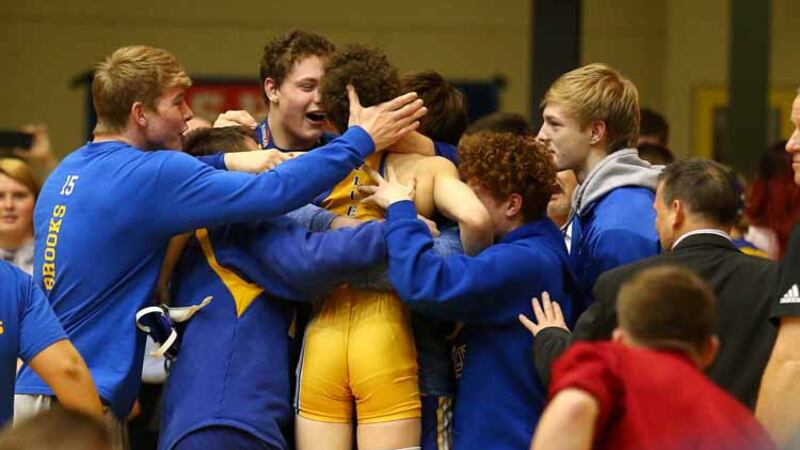 Published: Mar. 1, 2020 at 12:25 AM CST
Norton wrestling held its annual banquet on April 7, 2019. The Bluejays recognized its fourth-place showing in Class 3-2-1A, along with multiple state placers. Darius Shields took sixth at 106 pounds, and Cole Amlong earned state runner-up at 170.
Camdyn Unterseher and Judson Wiltfong were among the state qualifiers. Bluejay sophomore Thunder Linner, a first-year wrestler, collected the team's most improved award.
Coach Bill Johnson had to leave the ceremony because of tragedy. The team and town quickly learned Shields' mother, Lori, was killed April 7. Lori, 38, was a well-known secretary for Eisenhower Elementary School in Norton. Her husband, Damien, was arrested for murder.
The following day, Linner passed away in a farming accident. Norton cancelled school Monday and held a vigil Tuesday. Linner wore muck boots to practice, and the entire wrestling team donned muck boots to his funeral to honor him. Shields' two younger sisters moved to Kentucky to live with family. Shields immediately stayed with the Johnsons – and has never left.
Nearly 11 months later, Norton delivered a remarkable run with a Class 3-2-1A state championship Saturday afternoon at Fort Hays State University's Gross Memorial Coliseum. The Bluejays delivered an unexpected title with 120 points, seven more than favored Hoxie. Shields captured the state crown at 106 with a 5-0 decision against Goodland's D.J. Knox. Shields had lost by fall in the regional to Knox.
"I know she's proud," Shields said. "I know she's cheering loud up there like she always did."
At the end of the match, Johnson stood up from the coaches' box, pointed to the sky and put his hands on his face. Shields pointed to his coaches, turned around and pointed to the Norton contingent in the upper level. The fans delivered a thunderous ovation.
Then, he turned back to middle of the mat. He looked up and pointed skyward. Shields ran over and gave Johnson a big hug. Norton's team mobbed Shields and lifted him in the air.
"We just had to come together and get around Darius, and really, really help him go through probably what's going to be the hardest time ever in his life," Amlong said. "And we love him so much, and he's been through a lot. He really deserves this."
Additionally, sophomore 120-pounder Kolton Field, who was suspended from the team last winter, rebounded with a state crown. Field was ranked sixth entering the tournament. Amlong captured the 170 title.
"(Johnson) gets us to believe even when we think we can't," Amlong said. "He pushes us to believe we can. He pushes us in the wrestling room, and he's the best coach that anybody can ask for."
Seniors Unterseher and Wiltfong both earned fourth at 132 and 220, respectively for their first career medals. It marked the 11th state title in the Johnson era, all since '04.
"It's just amazing what can happen when a community comes together, through prayer," Johnson said. "I know there's been a lot of people behind the scenes praying for Darius, praying for our community to have some healing. It kind of shows you how insignificant sports is. Just a thing we do for fun. When the true things are all about loving one another, and I think that's most important. We saw a lot of love come into our community through this tragedy."
Hoxie was ranked first and had defeated Norton at multiple tournaments. The Indians delivered three titles with sophomore 126-pounder Drew Bell, freshman 132-pounder Derek Johnson and senior Dylan Weimer at 138.
"Even if we would have got second, I would have been really pleased with these kids," Johnson said.
Weimer captured his second straight championship and finished 27-2. Bell completed a 41-2 season, Johnson 38-3. Junior Aidan Baalman delivered a pair of falls Saturday and took third at 152. Republic County earned third place as a team with 85.5 points.
"Would have been happier if we would have won, but you can't take anything away from Norton," Hoxie coach Mike Porsch said. "They wrestled to win, too. Nothing really surprised me – Billy always has them ready to wrestle, and they wrestled well. … I have seen it time and time again. Bill does that."
Porsch and Johnson have each coached wrestling for at least 25 years. Last spring, Porsch sent Johnson a message once he heard about the tragedy. Porsch told his team to keep Norton in prayers.
"You hate to see that to anybody," Porsch said. "Bitter rivals when we are in this heat, but at the end of it, we are all humans, and we are all growing. I was like, 'Man, what would I do if that happened?' It would be tough."
Shields was born in Lawrence, though has lived the majority of his life in Norton. The sheriff's office quickly called Johnson after Shields' mother passed away. The Johnsons have four grown children, including three boys, all whom won an at least one individual state title. All of the children are out of the house.
"Love it here," Shields said. "It's the community. They are always behind you. They support you through everything, a win or a loss."
Reggie Shields, Darius' grandfather, and his aunt, Cierra Stewart, both live in Lawrence. Darius visited Reggie for Thanksgiving. Reggie wants Darius to "keep moving forward," and focus on wrestling, his school work and friends. They don't talk about the tragedy. Stewart said they are "so indebted" to the Johnsons for their help.
"It's still a long road to go," Reggie said. "But he's my inspiration."
On Friday, Reggie and Cierra followed the first day of state. Stewart watched the live feed in her living room. She exclaimed when Shields pinned Hill City's Carter Underhill in 15 seconds in the semifinals to clinch a spot in the championship. On Saturday, the family members made the 230-mile one-way trip to Hays to watch the finals. They wore shirts to support Darius.
"I am so proud of him," Reggie said.
Norton held a slight lead over Hoxie after Day 1, along with after the consolation semifinals and following the matches for third and fifth place. The title matches started at 138 with Weimer's championship.
Four bouts later, Amlong (29-5) bested Cimarron's Tate Seabolt, 4-2. In the regional final, Amlong beat Seabolt, 8-3.
"I had to switch up my game plan totally different, because he made a lot of adjustments from last week," Amlong said. "But just working my setups and my angles knowing I could get in on some shots, hopefully come out with a takedown or two and get the win."
Five matches later, Shields faced Knox. In the regional championship, Knox pinned Shields in 1 minute, 52 seconds. Johnson said Knox is "very tough on top."
"I looked in his eye last week, and it was not there," Johnson said. "I looked in his eye this week, and it was there. He was on."
Shields led 2-0 in the first period and 4-0 midway through the second.
"I had to come out here more aggressive than he did and take more shots, because I knew if I got to his legs I would win the match," Shields said.
Shields' victory pushed Norton's lead to 11 points and nearly sealed the state championship. He ended the year 40-6.
"It's amazing," Shields said. "I am glad that I could really give us a way better shot to win it than we had. We weren't expecting too much coming into it."
Two matches later, Field beat Smith Center's Colton Shoemaker, 16-12, in a wild match and secured the state championship before Hoxie's last two finalists wrestled.
Field was 11-7 last year and couldn't compete in the postseason because of disciplinary reasons. He went 32-15 and defeated three higher-ranked wrestlers at state. Field was the lowest-ranked state titlist.
"Just flipping the script," Amlong said. "I mean, he was really rough around the edges last year, but Johnson really got him to believe, and turn his ways around, and become a good kid again, and he wrestled his butt off, and he worked hard in the practice room all year to get to the point he's at right now."
Afterward, Norton filled seven rows of Section D of Gross Coliseum's lower level with a picture of townspeople and the team. The photo included Reggie and Cierra. The Bluejays' state qualifiers and hardware was in the front row. At the end, Norton gave a big cheer, and Shields, standing in front, pumped his fist.
"We have a community that loves wrestling," Johnson said. "That supports wrestling, and when you see that school and community relations that bond, you can do some great things. And these kids are not only wrestling for themselves, they are wrestling for their community. They are wrestling for everybody that came before them.
"And there were times this year that I had to question their will and their want," he added. "And told them that there's a lot of people that want you do well. So whatever is holding you back just throw off that baggage, cut it off and start climbing the mountain."
As the arena cleared, Shields, in the middle, lined up for a photo with the Johnsons – Bill, Joy, their four grown children, partners and grandchildren. Reggie and Cierra were part of the picture.
"It was amazing," Shields said of coach Johnson. "He's a father figure to me, and I just love making him proud."