Girls State Wrestling Wrap: Fearnside pleased to help KS girls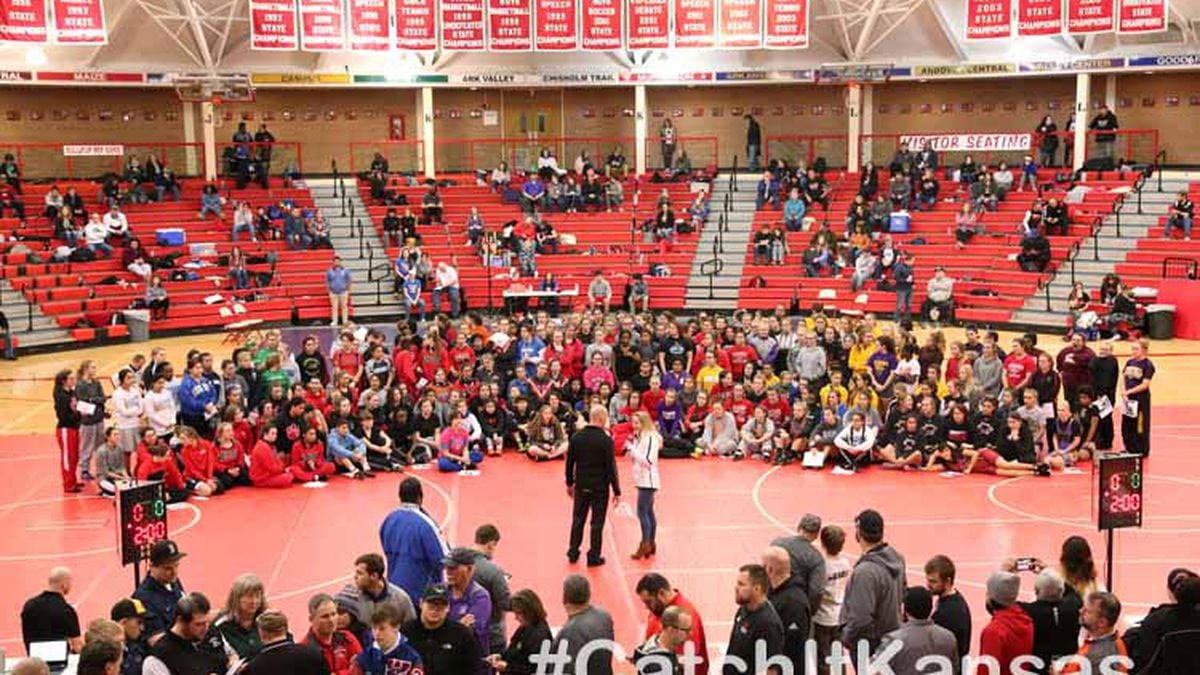 Published: Feb. 10, 2019 at 7:15 PM CST
Amy Fearnside started to wrestle as a sophomore at Live Oak (Calif.) High School. She quickly loved the sport, competed three years and earned a California state championship as a senior. Fearnside had four top-three national showings at the University of Jamestown in North Dakota. She is currently a member of Team USA in Colorado Springs.
On Saturday, Fearnside came to the McPherson High School Roundhouse for the third annual Kansas unofficial state wrestling tournament. Fearnside spoke at the 9 a.m. opening ceremonies and gave an award to McPherson coach Doug Kretzer for his work in developing girls' wrestling in Kansas. Then, she talked to girls throughout the day on a variety of topics. For at least one wrestler, she helped her with a move.
"From what I can see, they are super passionate for the sport, just for the raw love of the sport, and nothing beyond," Fearnside said. "That alone is their motivation. They love it. They are enjoying it so much, and you can see it in their faces just light up. They are excited to come in here and do this. They remind me of my roots."
At the end, Fearnside helped pass out medals. Overall, Fearnside was impressed with Kansas girls' wrestling. The wrestling community looks to have the sport sanctioned by KSHSAA this spring. Fearnside's speech centered around the opportunities and life skills that come from wrestling.
"They have a brighter future than they can imagine," Fearnside said. "They don't know just yet how valuable wrestling will be there in their life in the future. But the doors are going to open soon, and they are going to start getting more and more opportunities, and it's going to be very rewarding for them, and I just am excited. Because where they are at right now is just pure joy."
One of the conversations with a girl centered around that women's wrestling has been part of the Summer Olympics since 2004.
Fearnside had questions about getting to an elite level, including eating, free time and details that "add up to being the best version of themselves." Fearnside discussed words like discipline, commitment, responsibility, independence which apply to wrestling and in life.
"I looked at them and said, 'You are me 10 years ago,'" Fearnside said. "You are on the right track. The biggest thing is to stick with it."
Fearnside also watched the competition, including multiple area champions. McPherson 126-pound senior Mya Kretzer and Nickerson 106-pound junior Nichole Moore are well-known and nationally ranked, but girls' wrestling continues to have other great talent, too.
At 120 pounds, Andover Central senior Anja Tschohl, a Colorado Mesa signee, completed a 14-1 season with a state championship. At 132, Great Bend freshman Breanna Ridgeway went 16-1 with an impressive run that included victories against Royal Valley sophomore Maya Ogden and Burlingame sophomore Gianna Culbert. Both opponents entered state with perfect records.
At 152, Douglass freshman Jewella Cokeley won by fall against Hoisington junior Bailey Sanders for first place. Cokeley went 25-5, and Sanders was 9-2. Larned freshman Ava Mull (14-0) captured the crown at 170.
"It's really awesome honestly, like today I was just thinking about that," Kretzer said. "I was like, 'Oh wow, I see some new faces that are pretty tough, and I have got to remember this and remember who they are.'"
"And even some girls that are younger than me, I am just like 'Wow, they are already freshman and sophomores," she added. "Like it's just crazy to me, and I used to be wrestling them in kids' tournaments. It's pretty special to me, and think that they deserve this."