Garden Plain captures 2A Volleyball Title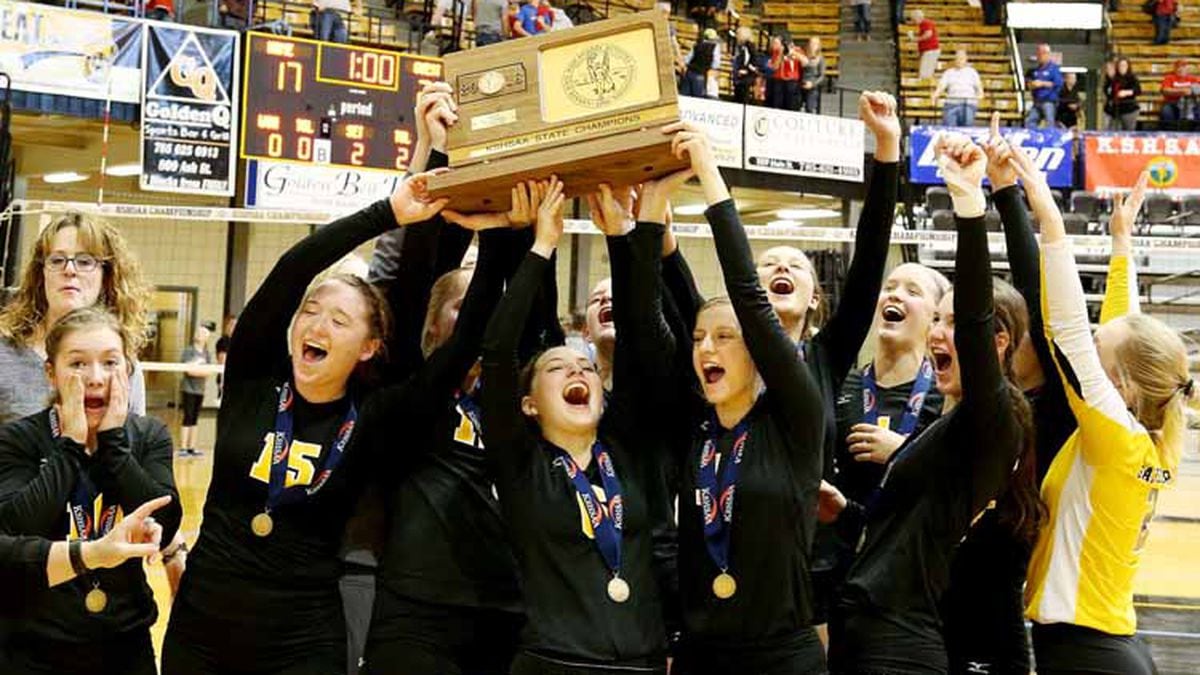 Published: Oct. 27, 2018 at 5:35 PM CDT
Garden Plain trailed Alma-Wabaunsee in the first set of the Class 2A volleyball state championship match, including multiple deficits of four and five points. Longtime coach Gina Clark is well-known for her motivational sayings and notes. During a timeout, Clark used a unique line.
She asked the players if they knew how to eat an elephant.
The line worked, Garden Plain erased the lead, saved three set points in the first set, and won 27-25, 25-11 on Saturday afternoon at Fort Hays State University's Gross Memorial Coliseum.
"I knew we were down here," Clark said. "And it looked like a big thing to try to make happen, and it just came to me, and I was like, I asked them if they knew how to eat an elephant, and they all looked at me like, 'We don't even know what you are talking about, why are saying this crazy stuff in the huddle?"
Clark explained the meaning behind the question, which helped the Owls capture its fourth state volleyball title, all since 1996.
Clark, Garden Plain's coach for the last 11 years with more than 530 career victories, won her third with GP after crowns in 2008 and '15. The fifth-seeded Owls went 4-1 at state and finished 35-10.
"I said, 'It's just one bite at a time,'" she said. "And they looked like, 'Oh, that makes sense.' … Start taking little bites, and chewed those up, swallow it and take another bite. Volleyball, it's all about momentum. Got a little bit of rhythm, and things started rolling."
In pool play on Friday, Garden Plain lost to top-seeded Colgan, which entered the state tournament undefeated. However, sixth-seeded Wabaunsee (32-12) upset Colgan in the semifinals, 27-25, 25-22.
"We were hoping to see them again," Clark said. "I don't know. I will take the gift from Wabaunsee that they took care of that for us."
In the postgame medal ceremony, Clark's daughter, Claire, a junior who finished with three kills in the final, gave her mother a big teary-eyed hug. Clark's husband and Claire's father, Alan, passed away three years ago.
Clark's older daughter, Kaylee, also captured a state title playing for her mother. Kaylee, in her first year as Andale's volleyball coach, took the Indians to the 4A state tournament.
"For us, these last three years has been very tough," a teary-eyed coach Clark said. "And we've had to rely on each other in the deepest ways, so at home, and in the gym, everything we do as a family is together and just counting on each other. And I wanted it for Claire just like we had it for Kaylee, because it's something everyone will cherish for the rest of their lives."
Garden Plain trailed virtually the entire first set, including 17-14, 24-22 and 25-24.
"The line she used today, that's what got us out of it," junior Natasha Dooley said. "You can always count on her to pull us out of it. She is a great coach."
Wabaunsee 5-foot-9 sophomore hitter/blocker Madisyn Wertzberger suffered an ankle injury near the end of the semifinal victory versus top-seeded Pittsburg St.Mary's-Colgan.
"You hate to see that for them, but you take advantage of every opportunity you are given," Clark said.
Wertzberger was significantly limited, couldn't jump and didn't start the final match. She did serve and played some in the front row as the match progressed. Coach Tracy Capoun moved Wertzberger to the right side.
"They just kept hitting out there to that outside, and we couldn't get up quick enough," Capoun said. "And my right side had to move to the middle, and she is pushing 5-7, so they definitely saw our weakness there."
Dooley delivered seven kills in the first set. Overall, she had 13 kills against just two errors on 21 swings against Wabaunsee. In the semifinals, Dooley tallied four kills late in the third set in a 2-1 win versus Smith Center.
"I just go up, and I just look to crush the ball every time," Dooley said. "And my team is behind me every time cheering me on and wouldn't have done it without them. There's no drama. Everybody pretty much fights for everybody, and everybody's best friends."
Down 24-22, Claire Clark saved the first set point with a kill. After GP tied the match, Wabaunsee went up 25-24. Then, sophomore Alli Puetz tied the set at 25.
"We were like, 'We've just got to keep pushing, and we've got to use our advantages that we have, so we just kept working for it,'" junior libero Kennedy Horacek said.
Wabaunsee committed an attack error, and GP had an ace for the 27-25 advantage.
"That comeback in the first set was amazing," coach Clark said.
In the second set, Garden Plain quickly went up 6-2 and 15-9 and cruised. Gordon had a big championship performance with six kills and no errors on 10 swings. Horacek, one of the state's top specialists, delivered 12 digs.
"She is so awesome," Horacek said of coach Clark. "She is also pushing us. We are never going easy. She is always making us work harder, and that's what got us here."
At another timeout, Clark reminded the team the high number of passing and serving drills the Owls did. GP broke down Wabaunsee's serve and serve-receive as the match progressed.
"That's what it came down to," Clark said. "We passed and served better than everyone else."