Augusta tops Andale/GP to take 4A softball crown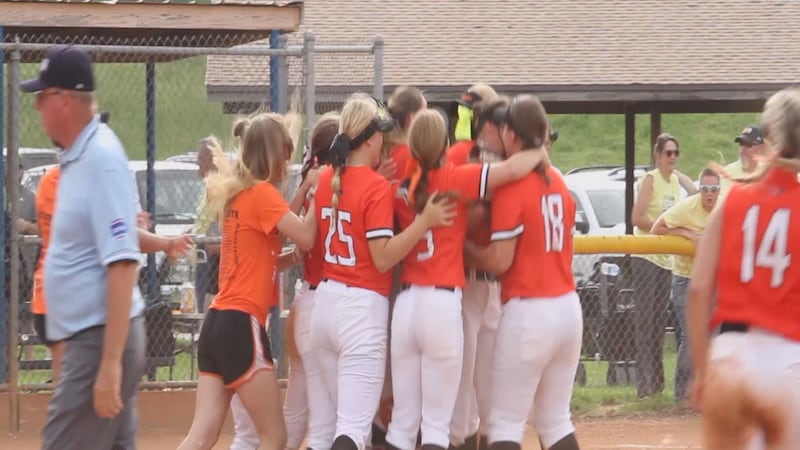 Published: May. 25, 2019 at 8:28 PM CDT
The Augusta Lady Orioles defeated the Andale/Garden Plain Lady Indians by a score of 5-2, to claim the 4A Softball State Championship.
Augusta won their first Softball State Championship since 2015. Andale/Garden Plain end the season with a 23-2 record. Augusta finishes with a 24-1 record.
Entering the 4A tournament, both teams only had one loss. The two teams split an AVCTL Divison III doubleheader earlier in the season. Andale/Garden Plain earned the one seed. Augusta received the two seed and played as the visiting team in the championship game.
The Lady Indians went to work early in the first inning. Kyla Eck scored from second after Macie Eck hit a to the fence double as just the third batter of the game. Andale/Garden Plain held the lead until the fourth inning. Augusta started the inning with the top of their batting order. The first four batters all safely reached base. The third batter, Jadyn Jackson, hit a double that scored Bailey and Morgan Pennycuff from third and second respectively. Jackson made it home on a Kourtney Devine single. The Lady Orioles ended the inning with a 3-1 lead.
Andale/Garden Plain tried to cut into the Augusta lead in the bottom of the fifth ining. Kyla Eck scored again courtesy of a Madison Grimes sacrifice grounder that allowed her to slide safely into home. That was the last run for the Lady Indians. In the top of the sixth inning, Augusta added a couple of insurance runs. Marti Merz hit a ball to shallow left that gave Kourtney Divine and Ashlyn Bowen time to score. They
ended the inning with a 5-2 lead.
In the bottom of the seventh inning, Andale/Garden Plain saw their first two batters strike out swinging to Grace Johnston pitches. Kyla Eck reached first on a single to left field. With a runner on, Madison Grimes hit a ground ball at first base. Allison Ebenkamp initially bobbled the ball but then gathered it up. She saw Grimes quickly approaching the base and dove with the ball in her glove to get the final out and win the game.
Both pitchers pitched a complete game. Andale/Garden Plain's Rachel Choate gave up five runs, four earned, on ten hits. She struck out three batters and stranded three base runners. Augusta's Grace Johnston gave up two runs, both unearned, on seven hits. She struck out nine batters, hit one batter, and stranded six base runners.