Records fall before 100th Kansas Relays end due to weather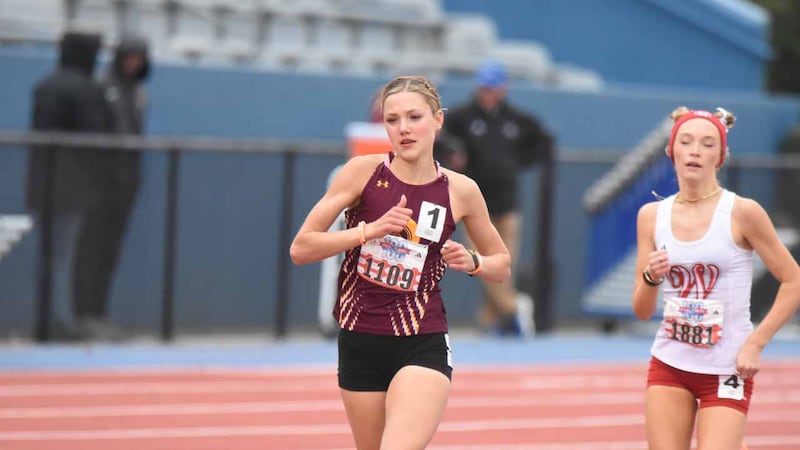 Published: Apr. 15, 2023 at 8:31 PM CDT
LAWRENCE, Kan. (Catch it Kansas) - What a difference a day makes. Friday's weather at the 100th Kansas Relays featured temperatures in the 80s with no rain. The result: several new meet and school records. Saturday's schedule was changed in anticipation of severe weather but the Relays still came to a close early after athletes endured chilly winds and temperatures in the 40s.
Some of the state's best distance runners were part of the final high school running event Saturday. Stanton County senior Chesney Peterson opened the season with the eighth-fastest 1600m time in state history. She won Saturday's race in 4:56.16, more than four seconds ahead of Shawnee Mission Northwest senior Paige Mullen.
"I love the cold, not the wind," Peterson said. "I was not expecting it to be that windy down the home stretch, but it was good."
Peterson also leads the state this year in the 800m run and ran the state's fourth-best time ever last spring. Friday, she just missed a season-best in 2:12.89. Mill Valley sophomore Charlotte Caldwell ran second in 2:16.74.
"Yesterday, I tried taking a strategy of drafting the first 200 and I got boxed in pretty bad, so that kind of freaked me out a little bit, but it was good," said Peterson. "I've never negative split before, but it was fun."
Wichita Collegiate senior CJ Meyer won his heat in the boys' 1600m run Saturday in 4:25.06, but that was good enough for only sixth overall after the second heat ran. Shawnee Mission east senior Wyatt Haughton joined a small handful of Kansas runners to crack 4:20 this spring with the win by three seconds in 4:18.05.
An eighth grader stole the show in the final race of this year's historic relays. A western-Kansas convert, Aria Pearce now runs in Rock Creek. She ran a 24.16 to beat her two collegiate competitors in the 200m dash finals Saturday. Her time of 23.97 in the prelims would rank No. 1 all-time in Kansas high school history, and ranks No. 4 in U.S. history for middle school runners.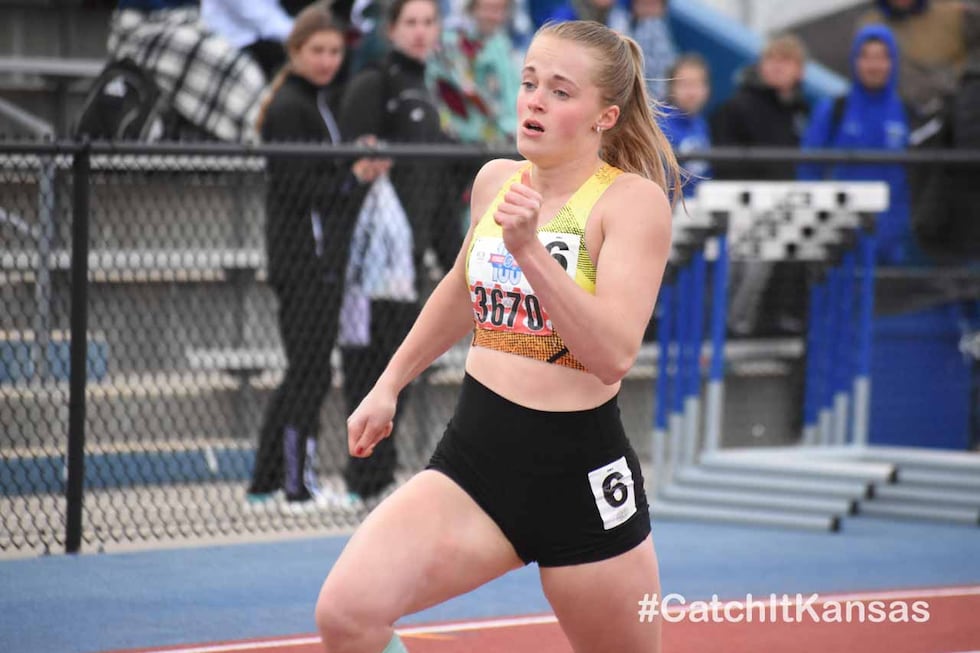 Pearce had to settle for the silver in the collegiate 100m dash in 11.66, just 0.07 seconds from the win. Pearce posted the fastest prelim time in 11.50, which would rank No. 2 in state history for high schoolers, and No. 2 nationally all-time for middle schoolers.
Friday saw a historic boys' 800m race. Shawnee Mission East senior Wyatt Haughton set a meet record and posted the seventh-fastest time in state history with a 1:51.42. Right behind him, Wichita Trinity junior Clay Shively won the silver in 1:51.94.
Other notable finishes:
- Hutchinson senior AnnaLisa Cullens, the 4A champion who transferred from Wellington, won the 100m hurdles in 14.26. Wichita Northwest junior Adryanna Shelby won the silver in 14.35, and Andover junior McKinlee Walker placed third in 14.45. Cullens leads the state in the 300m hurdles this spring, and she finished third to two non-Kansas hurdlers in that event with a time of 46.08.
- Kapaun senior Lillian Harris ran second in the 100m dash in 11.98 to miss the gold by 0.28 seconds.
- Andale senior Mckenzie Fairchild entered as the state leader this spring in the javelin. She came up eight feet shy of that mark but finished second on a throw of 147-5 to miss the gold by 11 feet.
- Beloit senior Tatum Seyfert missed the shot put gold by three inches, but her throw of 43-10.5 is the best in Kansas this spring. Seyfert also finished second in the discus on a throw of 140-5, which ranks No. 2 in Kansas this spring.
- Basehor-Linwood senior and Maize sophomore Alan Hanna each cleared 6-9.75 in the high jump for first and second, respectively. Those are the best clearances in Kansas this spring.
- Andover Central junior Bryce Barkdull was one of three pole vaulters to clear the bar at 15-11. Gardner-Edgerton senior Pierson Carlisle won the event, and Olathe East senior Andrew Kirby placed third. Barkdull is the only Kansas vaulter to clear 16 feet this spring.
- Salina Central sophomore Katelyn Rupe struggled in Saturday's cold and chilly 1600m run. She finished second in Friday's 3200m finals in 10:56.85. Shawnee Mission Northwest senior Paige Mullen took the gold in 10:50.86. Those are the top-two Kansas times this spring.
- The Lenexa-St. James Academy girls set a meet record in the Sunflower 4x100m relay in 49.82. Wichita East finished right behind in 50.21 for the silver.
- Pleasanton senior Isaiah Bates neared a meet record in the 100m dash, winning by a quarter of a second in 10.41. That time ranks No. 9 all-time in Kansas.
- Andale senior Riley Marx cruised to the javelin win on a throw just shy of 198 feet. Marx is the only Kansas thrower with a throw beyond 200 feet this spring.
Copyright 2023 Catch it Kansas. All rights reserved.