Unrau, Moundridge headed back to state for first time since 2013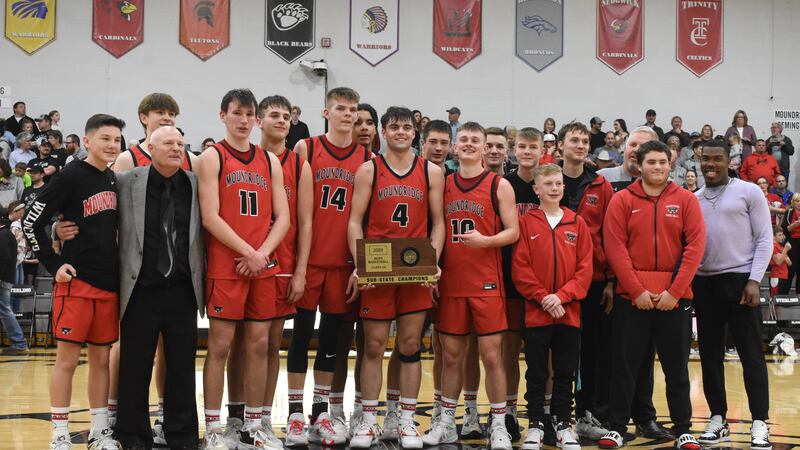 Published: Mar. 4, 2023 at 9:38 PM CST
STERLING, Kan. (Catch it Kansas) - Four of the top Class 2A teams in Kansas duked it out in the Sterling substate semifinals Thursday. Fitting that Vance Unrau's Moundridge Wildcats advanced to state for the first time in 10 seasons. Unrau announced his retirement after 36 years of coaching, and his Wildcats answered with a 60-45 win against the host Black Bears in Saturday's championship game.
"You prepare for moments like this," said Unrau. "I've had individuals, but I've never had a team invest like this in the offseason. It showed tonight. The biggest investors are the last ones to give up, and that's what our kids did tonight."
Sterling posts Gabe Riffel and Carson Gray combined for 30 of the team's first 32 points in Thursday's upset against Ellinwood. The pair was kept in check with just five points against the Wildcat defense.
"We knew they always go through their bigs and they're really, really tough," Unrau said. "Alec Huddle doesn't score a lot for us, but he did a good job defensively the first time we played them, and equally tonight. He really battled hard. When you have a rim protector on the back side that really helps."
Offensively, the Wildcats stayed hot through the first three quarters, making 16 of their first 30 shots from the floor, including six threes. Sophomore Henry Hecox had three of his first four attempts from the outside, hitting four on the night to finish with 12 points.
"We played a lot more loose tonight," said Unrau. "I told the guys tonight before the game, let's be us. Maybe we don't have to talk about anything else, but let's be us tonight. It was a lot of fun."
The Wildcats jumped out to an 18-12 lead after one quarter thanks to five points from sophomore Barrett Moddelmog, and six more from 6-7 senior Logan Churchill, including a breakaway jam in the frame. Churchill finished with 10 points, six rebounds, and several blocks on the night.
After their own solid start, Sterling cooled with just seven field goals in the final two quarters. Junior Isaac Briar hit a pair of late threes to finish with 12 points, and freshman Boston Ekart was active late to finish with nine points and five boards. Colby Beagley finished with eight points. Sterling ends its season at 16-6.
Moundridge senior Landon Kaufman hit a three in the fourth and used free throws to reach 20 points. The senior Huddle finished with nine points.
The Sterling substate wiped out Ellinwood (20-2), Inman (18-4), and Sterling, as well as a solid Remington team. The Wildcats take a 19-3 record to state.
"That first one is a really tough one," Unrau said. "That's the one where there can be upsets. I don't care who we're going to play, but we're going to be ready. These guys have prepared for moments like this. What a blessing it is to coach them."
Copyright 2023 Catch it Kansas. All rights reserved.