One-loss Berean girls heading back to state in 2A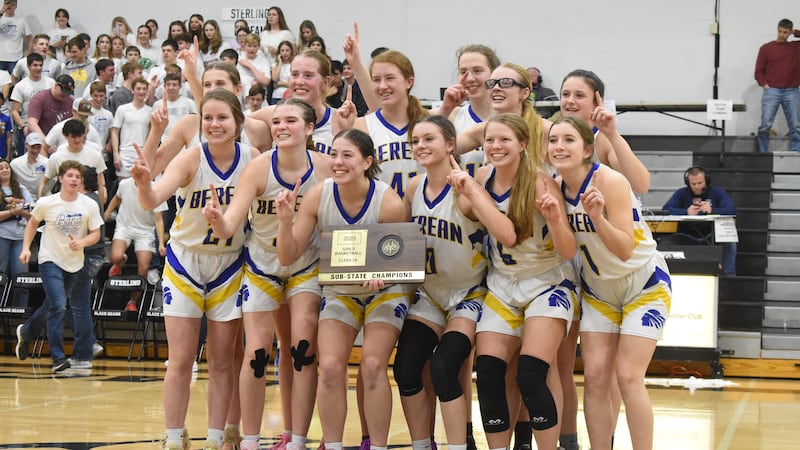 Published: Mar. 4, 2023 at 9:41 PM CST
STERLING, Kan. (Catch it Kansas) - Berean Academy needed every bit of a big third quarter to survive and advance to the state tournament against Remington Saturday night. Playing in the late game at the Class 2A substate in Sterling, the one-loss Lady Warriors outscored the Broncos 15-5 in the third before hanging on for a 45-39 win.
"I was very proud," said Berean coach Kristin Wiebe. "We had some people step and hit free throws. I just thought in the second half we battled more in the defensive end, and I think that's where we came up big."
Berean's six-foot senior Tayton Smith was held to just four points in the championship game. Seniors Lillie Veer, Kelsey Koontz, and Alexa Timken all stepped up with three balls in the big third quarter.
"We have an inside game and an outside game," Wiebe said. "They were taking away our inside game, and that's probably usually our strength, so we had to do some different things. We don't let teams score that much, and I think our second-half defense is what really did it."
The Lady Warrior defense did stall out in the fourth quarter. Senior Leah Mullens scored three minutes in for a 36-27 score but that would be the final Berean field goal of the night. The girls did, however, make nine of their 10 free throws in the frame. Veer capped a big night by making all six shots from the stripe in the final minutes. She also hit four threes on the night to lead all players with 23 points.
Remington did make a final run. Freshman Emily O'Brien swished a trey with 2:48 remaining to cut the gap to 36-30. She added a pair of free throws, then took a steal the distance to make it a one-possession game at 36-34 with still 1:45 to play. Veer made all six of her late free throws in the final 61 seconds.
The game remained tight throughout. Remington senior Kaleigh O'Brien hit a buzzer three at the end of the first quarter to pull the Broncs within one at 10-9. Another Kaleigh O'Brien jump shot in the final four seconds of the first half gave Remington a 21-19 edge at the break.
Kaleigh O'Brien finished with 15 points before fouling out late in the game. Emily O'Brien scored seven of her nine points in the fourth quarter and also grabbed six rebounds. Remington ends its season at 16-6.
Veer added eight rebounds to go with her 23 points for Berean. Koontz added 10 points. Smith had just the four points but grabbed eight rebounds to help her squad. The Lady Warriors take a 21-1 record to state looking to improve upon last year's fourth-place finish. This group will play in its third-straight state tournament.
"We're just going to go and give it everything we've got," Wiebe said. "Everybody wants to win it all, and so do we. Credit to Remington. They played a heck of a game. I just thought in the end our girls were disciplined enough to do the small things that matter. I'm proud of them."
Copyright 2023 Catch it Kansas. All rights reserved.