Hoisington, Cimarron girls advance in pair of thrilling semifinal games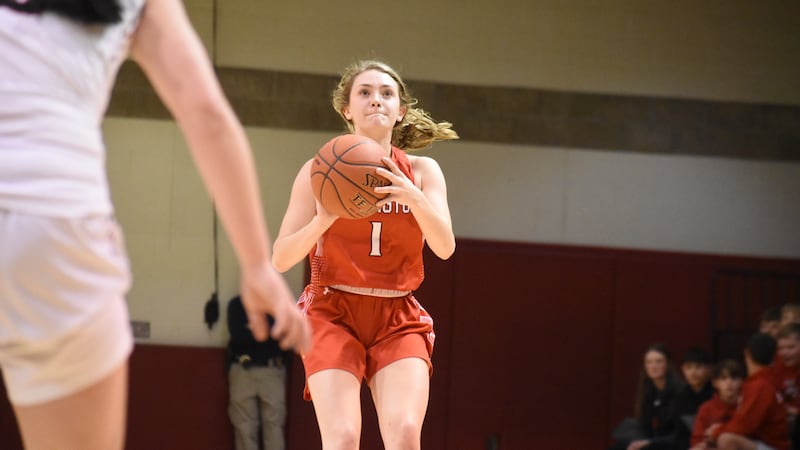 Published: Jan. 20, 2023 at 11:43 PM CST
HOISINGTON, Kan. (Catch it Kansas) - There was not a lot of excitement in round one of the Winter Jam Tournament Monday and Tuesday: most of the games went to a running clock. That all changed with Friday's semifinal games. Hoisington senior Addy Mason hit a game-winning 3-pointer in the final seconds against Ellsworth, and Cimarron hung on against Pratt 38-36.
Hoisington girls 25, Ellsworth 23
A low-scoring game saw the Lady Cards fall behind 5-0 at the end of one quarter. The teams combined for just 16 points in the first half as Hoisington pulled back ahead 9-7.
Ellsworth senior Greta Klein knocked down a pair of free throws for a 23-22 lead with 1:16 to play. Hoisington turned the ball over with 35 seconds to play, but a missed free throw on the Bearcat end kept the door open for Mason.
Mason has come up big behind the arc in previous tournaments. She set the single-game and 3-day records at the Keady Classic in 2021, then broke her own record with seven threes in a win earlier this season. Coming out of a timeout in the final seconds, junior Jordyn Boxberger found Mason a few feet off the line for the game-winning shot with five seconds remaining.
"I would say that's probably my No. 1," Mason said. "I've never had a game winner before."
Coming out of the timeout, the Lady Cards had a play drawn up for man defense, or finding the open girl against a zone defense. Mason was the favored shooter and everything worked out. "Get a quick release off, and if it's not open, find an open teammate," she said. "But it was off quick enough."
Boxberger had come up with a key steal less than two minutes earlier. That resulted in a basket from junior Kylee Hahn for a 22-21 Hoisington lead with 1:42 to play.
Hahn paced the Cardinals with 10 points, followed by six from Mason, five from Boxberger, and four from Mallory Mooney. Mooney also grabbed six rebounds in the win. Klein had a big second half to lead her side with 12 points, and Ryan Tenbrink scored five points.
Cimarron 38, Pratt 36
In the first game of Friday's semifinal slate, the teams combined for just 13 points in the first quarter and 27 in the first half as the Lady Jays opened up a 15-12 lead. Pratt senior Gabby Gatlin had the hot hand late with a pair of threes in the fourth quarter. The first got the Greenbacks within a point, and the latter gave Pratt a 35-33 lead with just 1:45 remaining.
Cimarron junior Jayna Wilson answered the second Gatlin trey with one of her own just 30 seconds later for a 36-35 lead. Greenback junior Jayden Mies tied the game from the charity stripe with 51 ticks left, but Bluejay senior Caitlyn Sonday answered with two free throws and a 38-36 with only 19 seconds remaining.
Mies, who finished with 11 points, including several drives through the lane, had a good chance to tie the game late but her shot rimmed off. Creighton-bound McKayla Miller missed both of her subsequent free throws to leave the door open for Pratt, who needed to go the length of the court in 2.2 seconds. A long 3-point try missed.
After a scoreless first quarter, Wilson finished with 17 points to lead Cimarron. Miller had an off day from the floor, finishing with eight points and eight boards. Chloe Bertelsen scored six points, and Sonday added all five of her points from the line to go with eight rebounds. Gatlin hit three treys in the second half to lead Pratt with 17 points. Mies added 11 points, and Quinn Thibault finished with eight points and eight rebounds.
Copyright 2023 Catch it Kansas. All rights reserved.