Class 5A sees major changes, but Mill Valley still the team to beat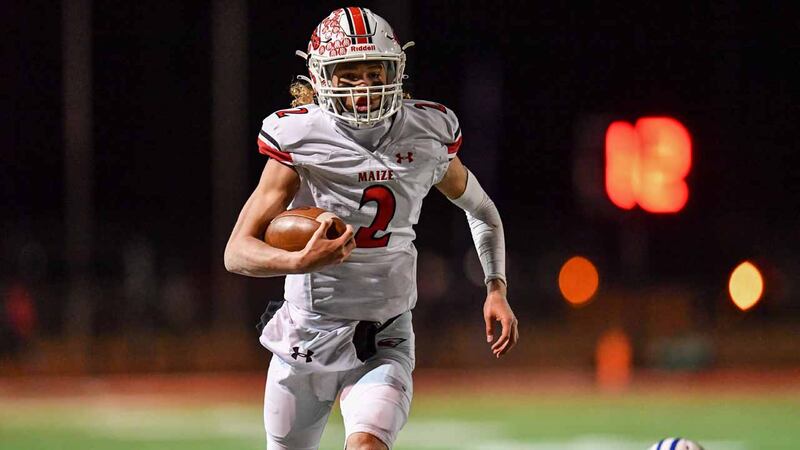 Published: Aug. 26, 2022 at 4:16 PM CDT
WICHITA, Kan. (Catch it Kansas) - The Class 5A power structure saw some major changes but three-state defending champion Mill Valley may not be concerned. The Jaguars return a healthy class from last year's 12-1 team and remain the team to beat. However, St. Thomas Aquinas advanced as least as far as the state semifinals in each of the past eight seasons. The Stags are gone to Class 4A. Wichita Northwest and Heights, teams that combined to go 13-7 last fall, move back to Class 6A.
Mill Valley has won the last three 5A titles, and five of the last seven. Senior Hayden Jay returns after leading the offensive with more than 2,300 passing yards and 449 more rushing yards. He completed better than 65 percent of his pass attempts. He will have an entirely new group of receivers in 2022. The Jaguar defense allowed more than 14 points in just three games last year and return several key pieces up front, including junior Truman Griffith and senior Grant Rutkowski up front.
Maize has worked its way to powerhouse status. After a 1-8 showing in 2015, the Eagles have not lost more than three games in a season since, compiling a 55-14 record under Gary Guzman since 2016. Last year, Maize suffered an early loss to Arkansas City but otherwise lost to perennial powers Derby and Mill Valley.
Senior Avery Johnson returns as one of the state's top quarterbacks. The Kansas State-commit threw for more than 2,500 yards with 20 touchdowns as a junior. Senior Daeshaun Carter balances out the offense out of the backfield with nearly 1,200 yards in 2022. Senior Bryce Cohoon had a huge junior year, winning the 100m dash title after hauling in 40 passes for 804 yards, all of which landed him a spot on the Syracuse roster next year. Senior Justin Stephens will be another returning target for Johnson.
Kapaun Mt. Carmel continues its rise under third-year GWAL legend Weston Schartz. The Crusaders came up a point shy of their first state finals trip in 35 years, and are 18-4 under Schartz so far. Kapaun won just two games in 2019 before Schartz's arrival.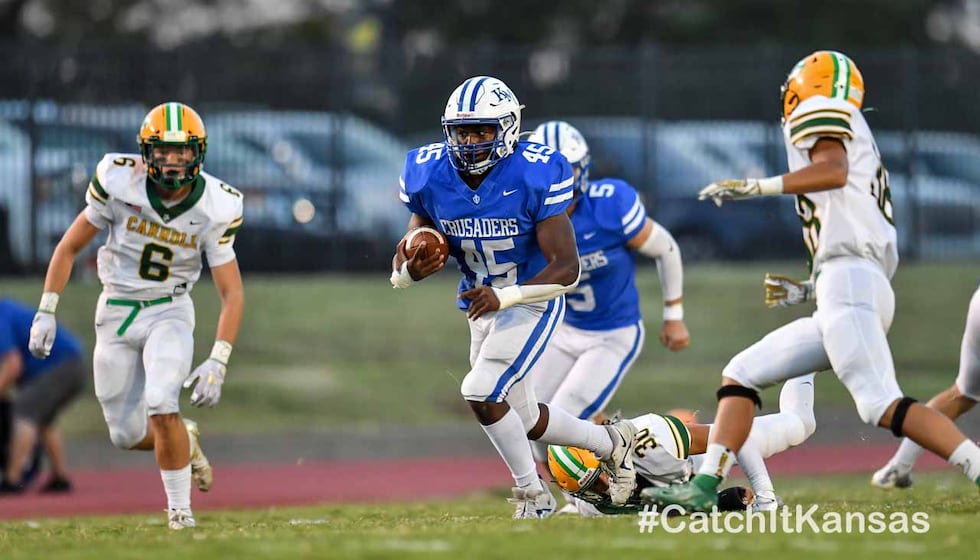 Kapaun has the skill players to get the job done this year and beyond. Omari Elias rushed for 2,300 yards and 30 touchdowns as a sophomore. Dylan Hamilton completed 67 percent of his passes and threw for 1,100 yards, again as a sophomore. Leading receiver Isaac Schmitz is gone to graduation, but 6-7 tight end Will Anciaux will give Hamilton a big target in 2022.
Along with Mill Valley, Maize, and Kapaun, Bishop Carroll looks to stay in the mix with nine offensive and eight defensive starters back from a year ago. The Golden Eagles made an early playoff exit against Maize last year but reached the semifinals in 2020. Quarterback Chase Smarsh put up more than 200 yards of total offense in the final win of 2021 but graduated in May. Tim Helton is also gone at wideout.
Maize South always plugs along to a winning record under longtime coach Brent Pfeifer. After a 10-1 2019 season, the Mavs mellowed to an 11-8 showing over the past two seasons. Wrecking ball Evan Cantu has graduated after rushing for 2,100 yards last year. Sophomore Taton McNew will gets snaps under center with a nice target in 6-2 junior Sammie Dresie, who caught 26 balls for 504 yards last fall.
The Hays-Maize South game proved to be a good one last year as Hays won 47-43. The Indians finished at 8-3 but suffer their own significant losses with Jaren Kanak heading to the University of Oklahoma and Roy Moroni staying home at Fort Hays State University. Senior Kyreese Groen makes the move from wideout to quarterback. Junior Malik Bah will carry the torch out of the backfield after rushing for 634 yards last season. Senior Bryce Salmans, at 6-2, 225 pounds, will be a tough stop at tight end.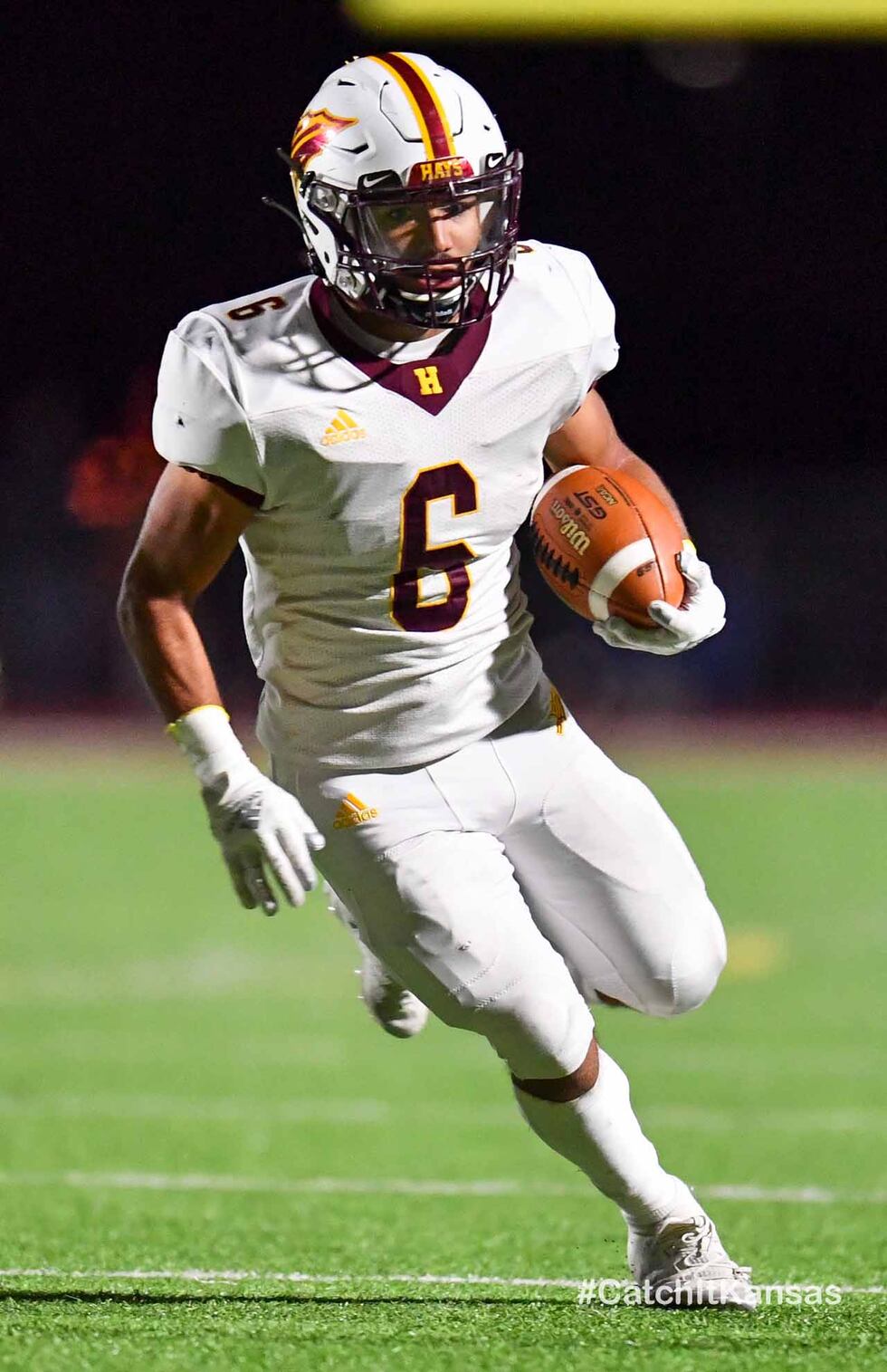 Staying in the Western Athletic Conference, Great Bend enters the season looking to end a 17-game skid that dates back to the final game of 2019. The Panthers played in 4A the last two seasons but make the move back to 5A this year. Senior Cayden Scheuerman returns after throwing for nearly 1,000 yards and rushing for 210 more. The speedy Braylon Council returns after leading the team with 38 receptions for 469 yards. Junior Cody Miller returns to the backfield after rushing for 549 yards.
Still out west, Liberal beat Great Bend 22-21 but still came up a win shy of a winning record. Bryan Luetters led Meade to a perfect 8-Man season last year and takes over the Redskin program. Brooks Kappelmann showed promise with 1,143 passing yards last year as a sophomore.
In the ACVTL-II, Andover played a tough schedule to finish at 7-3 last fall. Senior quarterback Brady Strausz returns with several years of experience under his belt, just missing a 1,000 yards in the air last year. Senior Nik Pai returns at running back. The Trojans lose some firepower but should be strong up front and on defense.
Goddard-Eisenhower turned in a respectable 5-4 record last year. The defense loses some major pieces but Darrin Fisher gets back some primary skill players on offense. Senior Tyner Horn threw for better than 1,100 yards last year, and Lucas Dickman picked up nice reps at running back to finish with 400 yards.
Valley Center won just two games in 2021 but the Hornets return some nice pieces. Junior Hank Welu threw for 662 yards in seven games under center. Senior Nolan Bevan turned it on at the state track meet and returns after rushing for 540 yards last year.
Likewise, Salina South battled through injuries and illness last year to the tune of a 1-8 record. Senior Weston Fries still threw for nearly 1,600 yards though turnovers were an issue. Senior Seth Clemmer and junior Ian Andalon combined for nearly 700 rushing yards – more than half the team's total. Senior Te'Jon McDaniel, at 6-4, returns as a favorite target for Fries with 506 yards on 36 receptions last fall.
Salina Central was the better of the two Salina schools last year with a 7-3 record. The Mustangs took some heavy hits to graduation, including that of quarterback Parker Kavanaugh. Senior Kenyon McMillan should still be an offensive threat after rushing for nearly 1,100 yards in 2021.
Copyright 2022 Catch it Kansas. All rights reserved.