Rising Star: Sedgwick Cardinals Baseball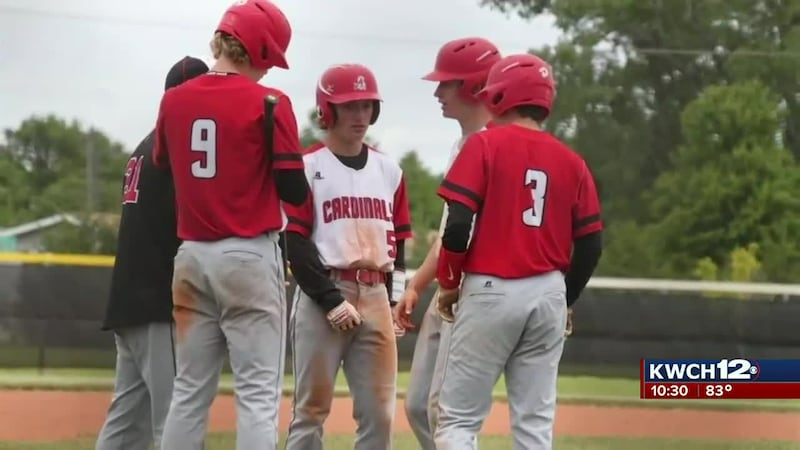 Published: May. 6, 2022 at 11:28 PM CDT
WICHITA, Kan. (Catch it Kansas) - The Sedgwick Cardinal baseball team is having another dominant season, currently with a 14-1 record. The 2-1a defending state champs are proving they have the talent to make a strong postseason push again.
After winning the program's first state title in 2021, the returning players have a taste of what it takes to win a championship.
"We've got a lot of guys from last year's team on that, so we know the feeling, we know the work that had to be put into that," said senior third baseman and pitcher Lance Hoffsommer. "Going back-to-back would be a fantastic feeling though. It'd be just once in a lifetime.
Sedgwick senior pitcher and right fielder Connor James Tillman said, "Last year, I think we had a ton of pressure, even from the beginning of the season because historically Sedgwick baseball has just always been good. We always just have that pressure on our backs. So last year definitely helped us and I think it's 100 percent carried onto this year too.
Currently sitting at the top of their 2-1A regional standings with a handful of games left to play, head coach Doug Mabry said their regional may be the hardest to get through.
"We have some work to do, staying locked in and focused from the first pitch of the game till the game is over," said Mabry. "We've gotten off to hot starts but we kind of spuddle through the middle innings."
"Our intensity level needs to come up quite a bit because I think last year, that's what helped us get through a lot of games," said Tillman.
But the Cardinal seniors said they're confident in the talent their teammates have developed from the beginning of the season.
Sedgwick senior pitcher and first baseman Charles Austin Harjo said, "Our ability to pitch and play defense may be better than our batting ability. We have guys all around that can hit the ball but we have four or five guys that can really pitch well that can win us some games."
The Cardinals will host their portion of the regional tournament in less than two weeks.
Copyright 2022 Catch it Kansas. All rights reserved.