Axtell holds off Wheatland-Grinnell for Div. II championship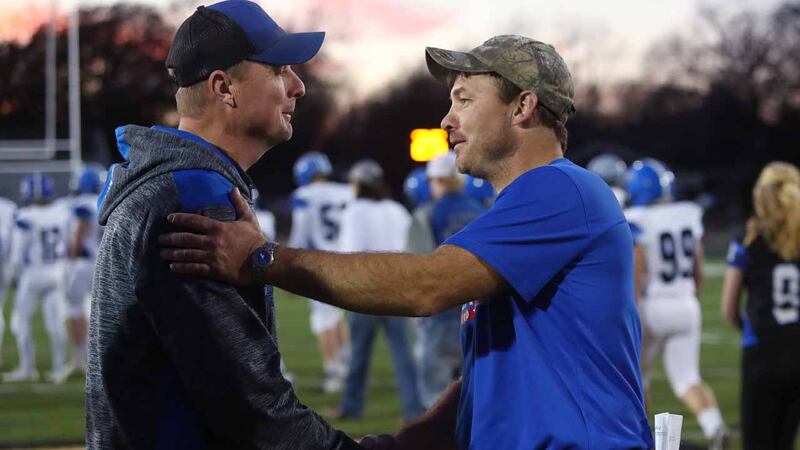 Published: Nov. 27, 2021 at 7:26 PM CST
NEWTON, Kan. (Catch it Kansas) - Axtell won Saturday's 8-Man, Div. II state title by more than two points but at one point the game hinged on a 2-point play. Trailing 28-12 midway through the third quarter, Wheatland-Grinnell scored and came up that 2-point play shy of a one-possession game. Instead, the Eagles rode the momentum of that stop to a 44-18 finish and Axtell's first state championship since 1993.
"I didn't see personnel-wise that I didn't have the right guys on the field for that," said Wheatland coach Jesse Vincent. "When one guy doesn't do his job that breaks it. That's what happened there. I knew it was huge and we needed those two points. That took some wind out of our sails."
Wheatland had forced a turnover on downs prior to the touchdown, converting a fourth down before senior Isaac Mendez was able to score from 28 yards out. The failed 2-point reverse left the Thunderhawks trailing 28-18 with 10:56 to play.
Wheatland was still battling, ready to get the ball back on a third-and-13 play. Instead, Eagle junior Isaac Detwiler was able to scramble and find freshman Eli Broxterman in the middle of the field. Broxterman made the rest happen on a 61-yard touchdown play.
"A 'little bit of luck' I think is what that play call was," said Axtell coach Eric Detweiler. "Isaac was getting hit as he was throwing it. Eli caught it and made two guys miss and he was gone. To win a state championship you have to have a little bit of luck on your side, and I guess we got it there."
Still in the game but barely, Hawk quarterback Trey Vincent completed a 41-yard pass to Jett Vincent to get Wheatland back in the Red Zone. A few plays later, Trey threw an interception that all but sealed the game. Axtell added one late score on a 1-yard run from Detweiler.
"We've been here many years and haven't won one since 1993," Coach Detweiler said. "We were here two years ago and couldn't pull it off. We're just super excited to be able to get the job done this year."
The game was much better than the week one meeting between the two schools. Axtell ended that game early 62-12, and the Thunderhawks had dominated virtually every other team on the schedule before Saturday's rematch.
"They proved too strong for us in the end," Coach Vincent said. "It's just one of those deals. One team has to win and one has to lose."
Axtell won the toss and took the ball first. The Eagles strung together a 59-yard drive before Detweiler forced his way in from 12 yards out.
The teams traded blows from there. After turnovers from each side, Wheatland got on the board with a 2-yard touchdown run from Mendez. A few drives later, Detweiler scored again, this time from six yards out for a 14-6 Eagle lead early in the second quarter.
The Hawks needed just three plays on the ensuing drive before Trey Vincent hit Jett Vincent on an 11-yard strike. The Eagles answered immediately, again using the legs of Detweiler on an 18-yard run. The Eagles led 20-12 at the half.
Trey Vincent struggled to just three completions in the second half. He finished the game 8-of-27 with 146 yards, a touchdown and five interceptions thrown to four different Eagles. Mendez carried the load on the ground with 118 yards on 21 attempts. Jett Vincent pulled in seven receptions for 143 yards.
Deweiler did a little of everything for Axtell, throwing for 266 yards and two scores on 15-of-25 passing. He ran the ball 18 times in the second half alone to finish with 142 yards and four scores on 34 carries.
The freshman Broxterman caught six passes for 149 yards, and freshman Brandon Schmelzle caught seven passes for 72 yards.
"All year we've put the ball on (Isaac's) shoulders," Coach Detweiler said. "He does a great job, he's a leader, a lot of times he audibles and changes plays. I can't ask more from him. He did a great job."
Wheatland-Grinnell ends its season at 11-2, with both losses coming against Axtell. The Eagles close out a perfect 13-0 season.
Copyright 2021 Catch it Kansas. All rights reserved.