Inman allows first points, still rolls past Plainville
Published: Oct. 2, 2021 at 12:49 AM CDT
PLAINVILLE, Kan. (Catch it Kansas) - In Week 1, Inman coach Lance Sawyer set a lofty goal for his experienced squad in the first four games - don't let anyone score. The Teutons opened with Hutchinson Trinity, Ellinwood, Sacred Heart and Oakley, the defending Class 1A state runner-up.
While Ellinwood and Sacred Heart have significantly struggled, Trinity Catholic and Oakley finished a combined 18-5 in 2020. Inman had lost seven straight to Trinity and hadn't shut out the Celtics in at least 25 years. Oakley beat Inman in the 1A state semifinals last fall.
Inman, though, met the goal and outscored teams, 246-0. They are Kansas' only squad that opened with four consecutive shutouts. After each shutout, Sawyer awarded his team ice cream on Mondays.
On Friday, Inman delivered a complete effort in a 48-3 road win against Mid-Continent League power Plainville. Sawyer offered superlatives throughout the roster, from senior quarterback Jace Doerksen, the wide receivers, line play and defensive personnel. Plainville frequently blitzed and Inman has yet to allow a sack in 2021.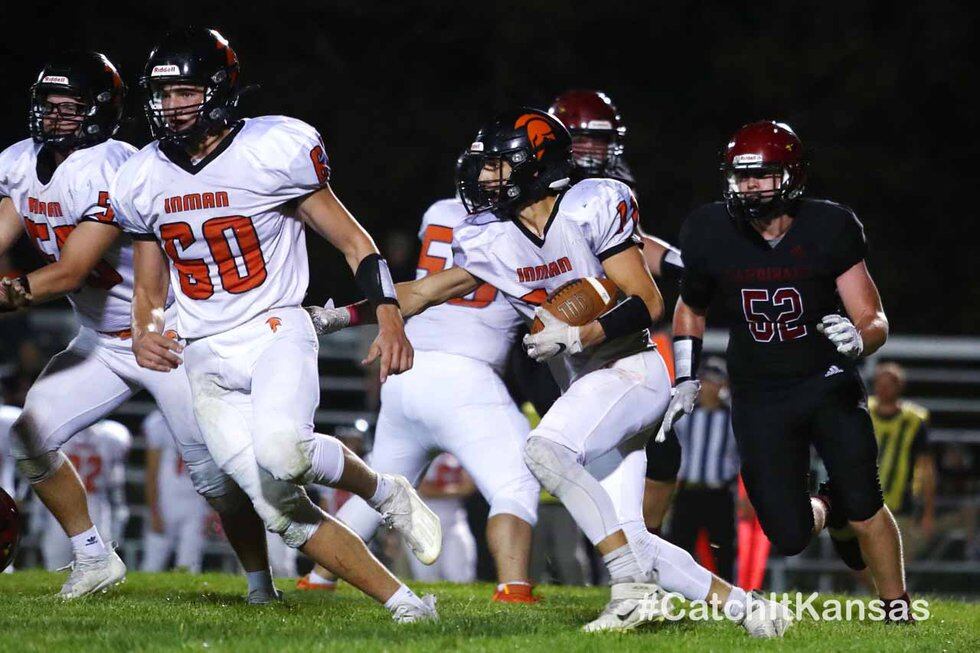 Plus, individual players stood out, including junior wide receiver Harrison Brunk, who missed the bulk of the first month with injury. In Sawyer's eyes, sophomore Dawson McConnell, a player with limited varsity experience, had the best game of his career. Senior lineman Dawson Mannebach was involved with five tackles for loss, including a pair of sacks.
"I was impressed with how we played," Sawyer said. "I thought we played really physical, (Plainville) is a physical team, and I was impressed with our defense, how well we flew around and hit. Our linebackers filled really well, and our d-line played pretty well."
Inman, ranked No. 3 in Class 1A, improved to 5-0, 4-0 in District 3. Plainville, ranked No. 7 in 1A, dropped to 3-2, 2-1 in district. Sawyer said he would likely keep the Monday tradition next week.
"A fun thing to do as a team," sophomore Tanner Heckel said. "Gets our spirits up Monday, and then gets us ready for the next week."
Inman, looking for the first state title game appearance in school history, continues to pace Kansas in scoring defense.
"I will probably still buy them ice cream for this anyways," Sawyer said. "It was a mindset for those guys. We knew our defense was going to be fast, but to hold five games now without a touchdown, that's pretty solid."
Doerksen, a four-year starter and on the short list for 1A's best quarterback, delivered a superb game with 11 of 17 passing for 179 yards and two scores.
"We got our passing game going a little bit," Sawyer said. "We haven't had to pass very much in the first four games. This one we got it going. I was pretty impressed with how Jace threw the ball."
Inman's trio of senior Kendyn Blank, Brunk and Heckel often won 1-on-1 matchups with experienced Cardinal defensive backs. Last year, Doerksen set the school record for single season passing yards with 1,550.
"You get to fly all over the place and go sideline to sideline whenever you want to, and it's pretty fun," Heckel said. "It's really nice, because it gives us two-way offense. We can run the ball whenever we want, and we can pass it."
Inman opened the game with a 10-play, 80-yard drive that yielded a 4-yard TD pass from Doerksen to Brunk on a quick slant. Brunk was covered 1-on-1.
"I don't think we would change it," Cardinal coach Grant Stephenson said of Plainville's game plan. "Their quarterback put the ball on the money numerous times, but how we set up and how we practiced, I felt very good about it. But obviously, we just have a lot of things to work on still."
After a Plainville punt, both teams exchanged lost fumbles. Then, Brunk, significantly defended, caught a 15-yard TD pass. Brunk finished with four catches for 46 yards. He suffered injury in the second quarter of Week 1 and returned for about a half last week. Friday marked his first full game.
Inman bumped the lead to 18-0 on a 55-yard TD run by Blank, a dynamic player who finished with 141 yards of total offense. Stephenson was most impressed with Inman's speed.
"Our receivers went up and got balls," Sawyer said. "Jace put it on the money. I mean, Jace had some throws that were perfect. Those guys were well-covered. Jace put it right where it needed to be."
The Cardinals have lost to 4-1 Thomas More Prep-Marian and Inman. In both games, Plainville had significant trouble with turnovers and penalties.
This marked the worst regular season loss since Stephenson took over as head coach in 2015, per the Kansas Football History database. Stephenson said in "some games" the Cardinals have "played really well."
On Friday, Plainville, which switched to the option this fall behind its experienced backs and line, received 29 carries for 127 yards from junior Kyle Werner. However, Stephenson said Plainville couldn't convert on third and fourth and short, had penalties and "bad situations." Stephenson believes the Cardinals have talent but said the team chemistry is "not there yet."
Plainville's lone points came late in the first half after the Cardinals recovered at the Inman 16-yard line after a mishandled punt.
The Cardinals scored on a 12-yard touchdown run from Werner with 3 minutes, 31 seconds left in the first half, though the play was called back because of penalty. Plainville didn't execute on third down, and sophomore Braxton Bittel kicked a 32-yard field goal with 2:22 left in the second quarter to cut Inman's lead to 18-3.
"I think I can draw the Xs and Os in the right spot but being able to get my players all on the same page and play together is the difficult part," Stephenson said.
After the field goal, Inman went 69 yards in less than two minutes. That included 18- and 34-yard catches from Brunk and Blank when they won 1-on-1 matchups. Blank scored from seven yards out on fourth-and-1 for a 24-3 halftime advantage.
"We were just able to bounce back from that," Brunk said. "And keep high energy and keep putting it on them. And our defense stood strong after that field goal and didn't really give up much more the whole game, so I think that's what really stood out, is how we bounced back."
Inman had strong blocking from Brunk, along with its experienced offensive line with seniors Mannebach, Christian Winsky, and Grant Thimmesch. Plus, McConnell enjoyed a big contest.
"Dawson McConnell is fast," Sawyer said. "Fast and strong. Last year, he barely played JV. I mean, he is a man-made guy. He played fantastic tonight, and this was the best game he's ever played. He does so many things up front."
In the third quarter, senior Kyler Konrade received a big block when Mannebach turned left and sealed his man. Konrade rushed 80 yards for a touchdown and 32-3 lead. In the fourth, Heckel tacked on scoring runs of 11 and 70 yards.
Plainville had its last scoring chance when it took over with eight minutes left in the game. Werner delivered a 30-yard run. The Cardinals eventually faced 4th-and-1 from the Inman 19-yard line. The Cardinals ran left, and Thimmesch made the fourth down stop.
"We held them out of the end zone," Heckel said. "That was a big deal. We hit really hard. Came up and made tackles when we needed to. Made big stops on fourth down in the red zone and everything. It was just a good game."
Copyright 2021 Catch it Kansas. All rights reserved.