Hoisington blows by Ellinwood for second-straight Winter Jam title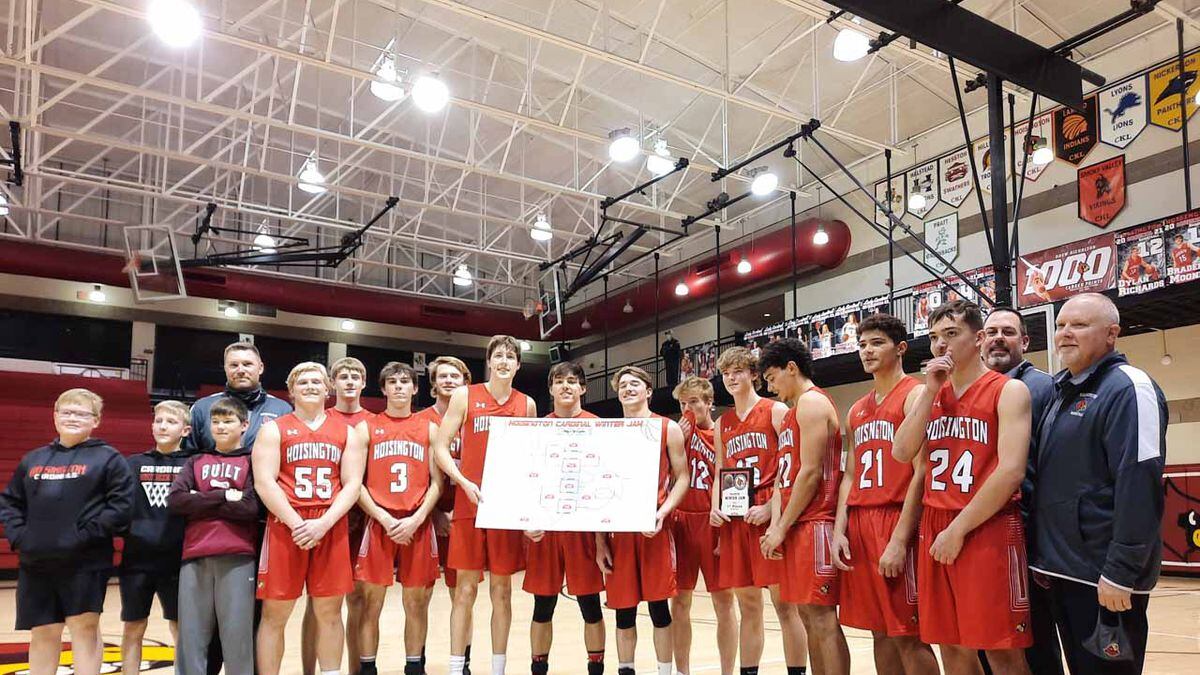 Published: Jan. 25, 2021 at 3:03 PM CST
HOISINGTON, Kan. (Catch it Kansas) - Once ranked No. 4 in Class 3A, Hoisington has showed flashes of brilliance this season – the Cardinals once led top ranked Hays (5A) by nine points in the second half of an overtime loss before Christmas. The Cardinals fell into some lackluster times with a loss to No. 6 Hillsboro before tournament play, and come-from-behind wins against Nickerson and Ellsworth.
Saturday night Hoisington again found its footing. Five players reached double figures and the Cardinals worked their way to an 85-59 running-clock win against No. 2 seed and one-loss Ellinwood. Hoisington has now won back-to-back Winter Jam titles, and five of the last six.
"Our emphasis coming into the game was why can't we get more guys involved," said Hoisington coach Kyle Haxton. "We put the defense on its heels and they struggled to guard us because of so many threats on the floor tonight."
The 30-point lead reached in the final three minutes of regulation came after Ellinwood led 19-18 after one quarter. Led by sophomore Tyler Stuhlsatz and a trio of treys, the Eagles sank five threes in the opening frame, and freshman Alek Brack came off the bench for five quick points.
Forty-give seconds into the second quarter the Cardinals took the lead for good on a pass from Chase Robinson to Drew Nicholson. That duo each added baskets for a 24-19 lead just 2:02 into the second.
Then the Cardinal shooters warmed up from the outside. Seniors Ryan Woydziak and Hunter Hanzlick each canned threes, then Hanzlick was left alone in the corner for another three and a 34-26 score. Sophomore Leyton Haxton added a three in the final seconds to put the Cards on top 42-28 by halftime.
"We're a great-shooting team," Coach Haxton said. "We haven't shot the ball well yet and we're 8-2. That's a good sign. We've scored a lot of points, averaging almost 70 points a game, and we haven't shot the ball well yet this season. Our best shooters knocked down some shots tonight. We still have some really good shooters who haven't got it rolling yet. When we're running on all cylinders, that scoreboard can really light up."
The second quarter was just a warm up for the Cardinal shooters in the third. Hoisington made five of its eight attempts from the outside in the frame, led by two shots each from Nicholson and senior Mason Haxton. Overall, the Cards made eight of their 12 shots in the third. Hoisington's lead stretched to 64-43 by the end of the frame.
"They struggled getting back in our transition offense," said Coach Haxton. "That's a credit to our rebounding. I thought we did that phenomenally well. We'd get out and run and get some easy buckets. We play deep. We play eight, nine, ten guys a lot of minutes and they play five or six. They were tired and we continued to get some easy ones. That's what got us rolling."
Hoisington finished big with 21 more points in the final eight minutes. Hanzlick provided some style points with a behind-the-back pass to Leyton Haxton to get the clock moving for good at 85-55.
Ellinwood's group of four sophomores again led the way. Britton Dutton hit a pair of threes and scored 12 of his game-high 27 points on near-perfect shooting in the fourth. Stuhlsatz added 13 points and six rebounds, and Parker Scheck, after missing much of the first half with foul trouble, finished with six points and six boards. The freshman Brack scored a career-high eight points, all in the first half.
Nicholson grabbed six rebounds to go with his team-high 24 points for Hoisington. Woydziak added 15 points, Leyton Haxton scored 13 points. Hanzlick added 11 points on 3-of-5 shooting from the outside, and Mason Haxton had a slow scoring night to finish with 10. Robinson finished with six points and six boards.
Copyright 2021 Catch it Kansas. All rights reserved.