Sacred Heart's Perrin takes 3-2-1A crown; Sacred Heart, KC Christian team co-champions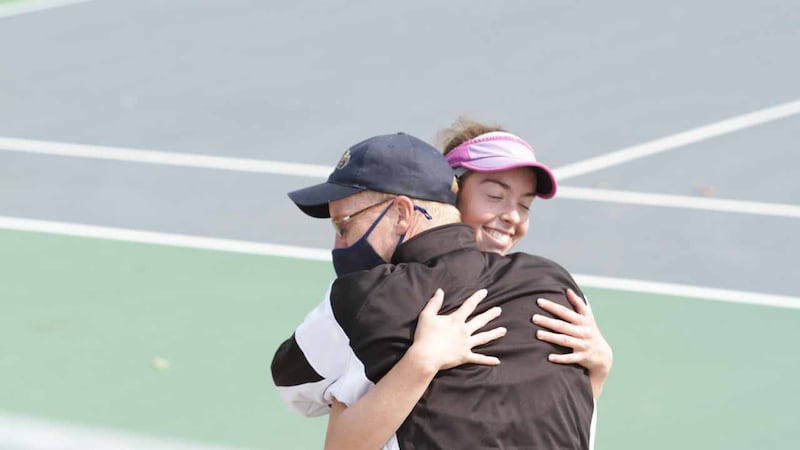 Published: Oct. 17, 2020 at 4:28 PM CDT
WICHITA, Kan. (Catch it Kansas) - After two consecutive third-place finishes in 2018 and 2019, Salina Sacred Heart's Lily Perrin won her final match of her high school career Saturday for the 3-2-1A State Championship. Perrin took down Kansas City Christian's Keira Knoflicek 6-3, 6-2 to take home her first state title.
"I'm very happy," Perrin said. "I feel like I worked very hard to get here. I'm just happy to be here."
The wind at Riverside Tennis Complex in downtown Wichita reached gusts of up to 35 miles per hour and played a huge role in how most matches were played.
"I kid you not, this is the windiest I've ever played tennis in," Perrin said.
She didn't use it as an excuse or let it get in her way. Instead, she simply accepted the situation and handled it the best she could.
"You just have to be more strategic when you're on the court," she said. "You have to know that there is a factor in play that you can't control, but you know will be there and you have to find a way to deal with it and be strategic and find a way to come out on top."
Perrin was in control for most of the match. She didn't have many unforced errors or mistakes and when she did, she shook them off well. It was a smooth match from beginning to end.
Despite that, Perrin just stayed locked in until the final point.
"I think I was pretty dialed in the whole match and really focused on every point," she said. "I don't necessarily think there was a turning point where I just knew (I was going to win)."
KC Christian's Bartels/Sand take home doubles title
KC Christian's Emma Sand and Juliet Bartels didn't face much opposition through their first three state tournament matches, dropping just five games before the title match.
With that in mind, Salina Sacred Heart's Isabella Matteucci and Katie Weiss put up a battle but couldn't close out the championship as Sand/Bartels took home the title 6-4, 4-6, 6-4.
This match was back-and-forth the entire way. As soon at Sand/Bartels looked in control, they would commit an unforced error and Matteucci/Weiss would seize control for a few points.
Bartels finished third in 2017 and second in 2018 and 2019 with different partners, but with Sand, she finally broke through to the top spot.
KC Christian and Salina Sacred Heart were the only two teams competing in the singles and doubles finals and both teams won a title in each, the two teams are co-champions with Ellsworth coming in third place.
Copyright 2020 Catch it Kansas. All rights reserved.