Maize stays unbeaten, tops Derby in shootout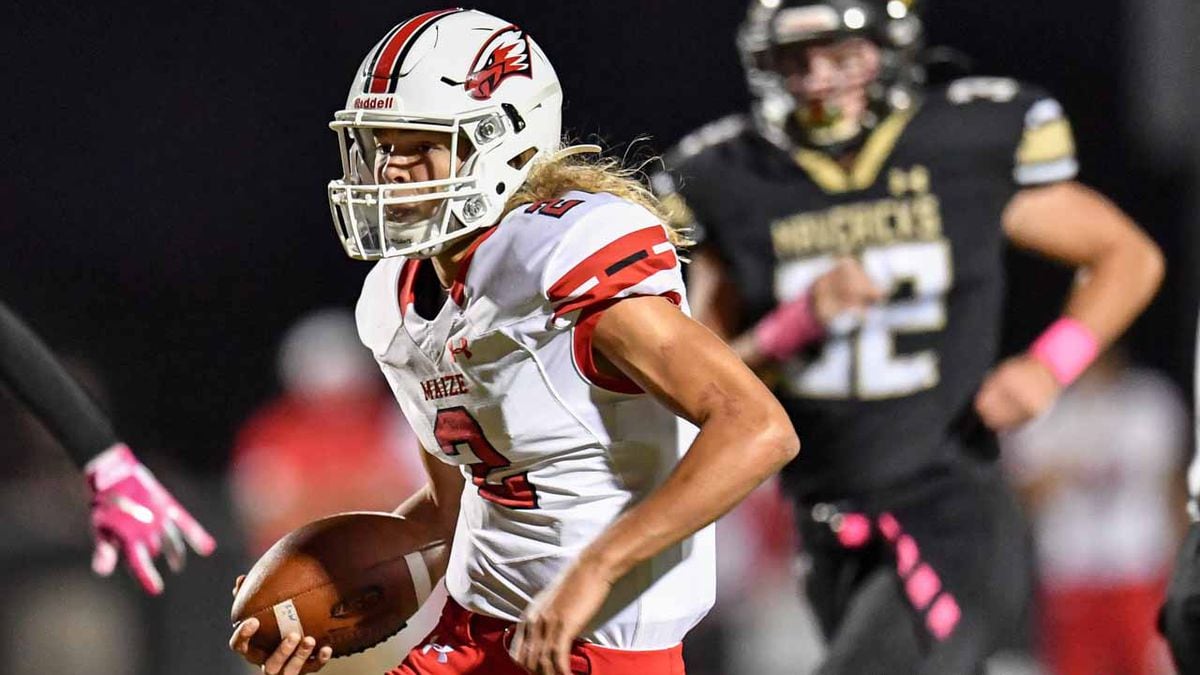 Published: Oct. 16, 2020 at 11:36 PM CDT
WICHITA, Kan. (Catch it Kansas) - The last few seasons, the Maize Eagles found their bid for a league title shattered after playing against the Derby Panthers. This year, the Eagles hopes of winning the AVCTL Division 1 are very much alive with a 36-35 statement win against the Panthers on Friday night.
Early momentum in the game swayed between both sides often. Maize was set up in the redzone after an errant Panther punt set them up in favorable field position. Derby's defense stood tall to the task and kept the door closed on the Eagle offense. Advantage Derby.
That stop would jolt the Derby offense to find the first points of the game when sophomore Dylan Edwards scored the first of his three first-half touchdowns on a designed run up the middle. Edwards was a bright spot in the Panther offense using his speed once he was able to get into the Maize secondary.
Maize would go on to respond with a highlight play courtesy of senior running back Josh Sanders. Sanders seemed to be stopped by multiple Derby defenders before spinning out of a plethora of defenders and wheeling down the Derby sideline. Sanders would break a number of runs on the night with the help of the Eagle offensive line creating seams for the shifty back to cut between.
On the ensuing Panther drive, senior QB Lem Wash threw an interception when Tanner Knox made a diving catch to rip the ball away from the Panther receiver. This instance was one of multiple turnovers from the Panthers. Maize would go on to capitalize from that almost instantly when Avery Johnson found Justin Stephens for a 28-yard score.
Derby's defense would also see its share of turnovers in the game. Senior linebacker Jack Hileman read Johnson's eyes and was able to come away with an interception. Hileman would find the endzone before the play was called back on a block in the back penalty.
The Panthers would go on to take a 21-19 lead at the half before the slugfest came to an end with the Eagles taking the ball away with less than a minute to go, sealing the win 36-35.
Maize moves to 7-0 and joins Hutchinson as the front runners for AVCTL-Division 1 title. The two will meet next week for a chance at the league title.
Derby falls to 3-2 on the season and will look to bounce back against Maize South.
Copyright 2020 Catch it Kansas. All rights reserved.