2020 CIK Football Rankings: Preseason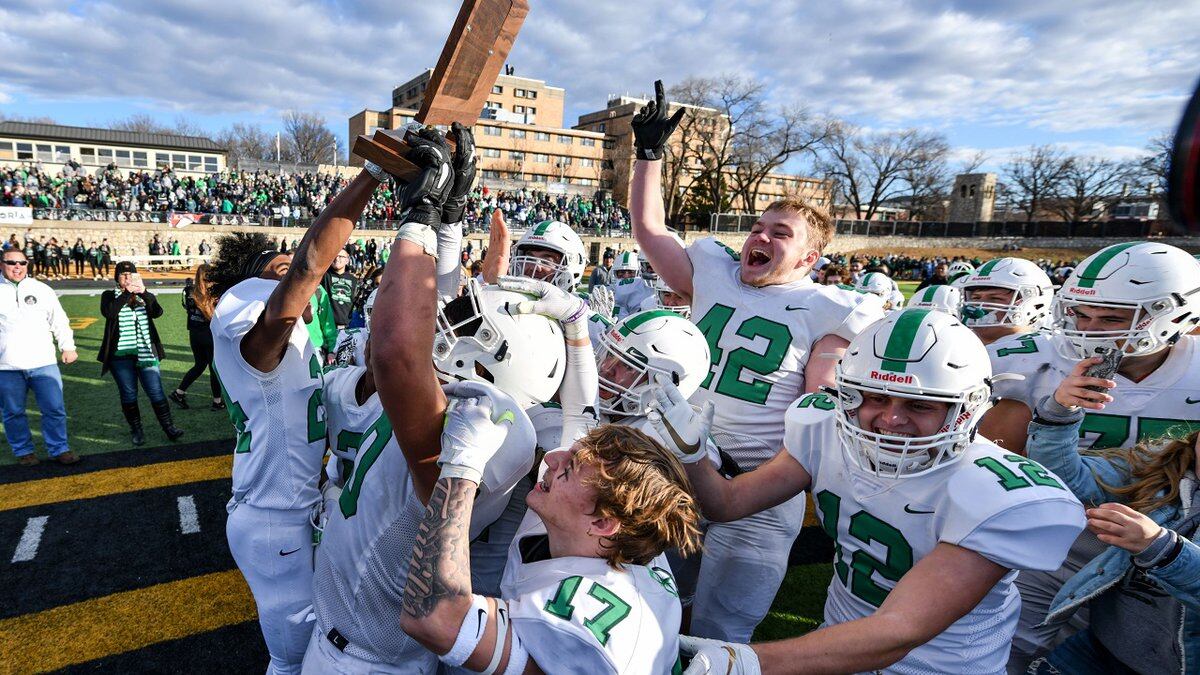 Published: Aug. 28, 2020 at 2:49 PM CDT
|
Updated: Aug. 28, 2020 at 6:00 PM CDT
WICHITA, Kan. (Catch it Kansas) -
For the preseason, CIK has elected to consider all teams for the top-10 in each class – regardless of game status from coronavirus concerns. This will change after Week 1 depending on who has played.
Class 6A
1. Derby
2. Blue Valley
3. Lawrence
4. Manhattan
5. Blue Valley North
6. Junction City
7. Olathe West
8. Lawrence Free State
9. Wichita East
10. Gardner-Edgerton
Class notes: Olathe North, likely a preseason top-five team, took a tumble when several players transferred, notably Iowa commit Arland Bruce IV, the reigning Simone Award winner as the best player in the K.C. Metro Area. Derby is loaded across the board, notably with QB Lem Wash and at Linebacker. Blue Valley has QB Jake Wolff, and DL Sterling Smithson, both Division I recruits, along with 1,000-yard rusher Chase Jans. Lawrence features Devin Neal, a KU commit and the state's top 2021 recruit. A high number of these schools, especially Olathe, Blue Valley, Wichita and G-E, have significant uncertainty for playing football this fall. Olathe West moves up to 6A for the first time.
Class 5A
1. Mill Valley
2. St. Thomas Aquinas
3. Wichita Northwest
4. Bishop Carroll
5. Maize South
6. Maize
7. Hays High
8. De Soto
9. Blue Valley Southwest
10. KC Washington
Notes: The top-four teams are the same four teams that finished last year's poll, though Mill Valley, Northwest, Aquinas and Carroll was the order. Wichita Northwest and KC Washington might not have a season, or at the very most, will not play all their games. Hays High is expected to make a big jump in 5A, while Blue Valley Southwest returns nearly all of its key players. While Northwest was looking for its first state title in program history, Washington was looking for the first playoff win in school annals behind QB Cory Macon. It's highly unfortunate that those dreams might not occur because of school board votes and COVID-19 concerns.
Class 4A
1. Bishop Miege
2. McPherson
3. St. James Academy
4. KC Piper
5. Tonganoxie
6. Paola
7. Buhler
8. Basehor-Linwood
9. Louisburg
10. Lansing
Notes: Bishop Miege is the favorite for its state record seventh straight state title. McPherson has played in three consecutive semifinals and easily led 4A in scoring defense. The Bullpups have allowed 12 points a game or less in each of the last four seasons. SJA moves down from 5A. KC Piper is expected to take a big jump (as long as a season is played) behind LB Branden Martin and all-purpose threat La'James White. Tonganoxie took a late leap up the poll after it added RB Tyler Bowden, who has a Division I offer and rushed for more than 1,800 yards for Lawrence Free State. Lansing also shifts down from 5A.
Class 3A
1. Perry-Lecompton
2. Andale
3. Frontenac
4. Southeast of Saline
5. Holton
6. Topeka Hayden
7. Halstead
8. Sabetha
9. Scott City
10. Riley County
Notes: This was the state's deepest class last year and should be again with more than 15 contenders. Andale defeated P-L in the championship last season, and P-L is loaded, especially at QB, RB and on defense. Andale went 13-0 and returns Eli Rowland, dynamic in all three phases, and DL Cayden Winter. Southeast of Saline moves up from 2A. SES likely would have been preseason top-two in 2A. Clearwater, Collegiate, Hesston all CIK area schools just outside the top-10. Riley County also is up from 2A after state runner-up and state semifinals the last two falls. Andale, Frontenac and Topeka Hayden finished 2-3-5 in 3A scoring defense last season.
Class 2A
1. Rossville
2. Hoisington
3. Silver Lake
4. Nemaha Central
5. Pittsburg Colgan
6. Norton
7. Cimarron
8. Hillsboro
9. Garden Plain
10. Osage City
Notes: On paper, Rossville is the key clear cut No. 1 in what is expected to be likely the most wide-open class. Rossville was top-8 in 2A in scoring offense and defense and returns virtually its entire team. Last year, Nemaha Central and Norton both were surprise entrants into the title game. Hoisington was the preseason No. 1 team last season and reached the state semifinals for the second consecutive fall. The Cardinals have to replace Top 11 all classes Wyatt Pedigo (5,000-plus career rushing yards), but Hoisington has a great QB in Mason Haxton and plenty of backfield weapons, including Cade Mason and Holt Hanzlick. Pedigo's biggest loss might come on defense, though Joshua Ball (71 tackles, team-high 12 TFLs) returns. Colgan bumps up from 1A.
Class 1A
1. Valley Heights
2. Centralia
3. Smith Center
4. Olpe
5. Sedgwick
6. Conway Springs
7. Lyndon
8. Jackson Heights
9. Plainville
10. Oakley
Notes: Valley Heights and Centralia are both in the Twin Valley League, and Smith Center, Plainville and Oakley both come from the Mid-Continent League. Class 1A is down to just 28 teams, 20 fewer than 2A. The class deeper than last year with Conway Springs moving into 1A. Smith Center has represented the west in the last three title games. Jackson Heights is not expected to start the season because of COVID concerns. While perennial powers, Valley Heights, Sedgwick, Lyndon and Oakley have never made a state title game. JH has not reached state since '83.
Eight-Man, Division I
1. Canton-Galva
2. Madison
3. Leoti-Wichita County
4. Little River
5. Clifton-Clyde
6. La Crosse
7. Meade
8. Hoxie
9. Ness City
10. Medicine Lodge
Notes: La Crosse and Meade, which met each other in many classic 2-1A playoff battles in the last decade, both drop down to eight-man and have many key returners, especially at RB. Canton-Galva, the defending titlist, is loaded with WR Tyson Struber and RB Brayden Collins, and Little River returns its two QBs with Jayden Garrison and Graham Stephens. District 7 features Wichita County, Meade and Ness City, along with Hodgeman County, just outside of the top-10. Canton-Galva and Little River are both in District 4. La Crosse faces Victoria, Hoxie and Ness City to start the season, all top-10 teams in its respective classes.
Eight-Man, Division II
1. St. Francis
2. Hanover
3. Axtell
4. Victoria
5. Thunder Ridge
6. Wheatland-Grinnell
7. Osborne
8. Frankfort
9. Beloit St. John's-Tipton
10. Lebo
Notes: St. Francis is the defending Eight-Man, Division I runner-up and drops down to Division II. Osborne won Division II, while Axtell was the runner-up. SF and W-G are both in District 8. W-G plays host to Axtell in the season opener. Twin Valley League powers Hanover, Axtell and Frankfort are again in District 2.
Copyright 2020 Catch it Kansas. All rights reserved.