CIK Season Preview: Quarterbacks to Watch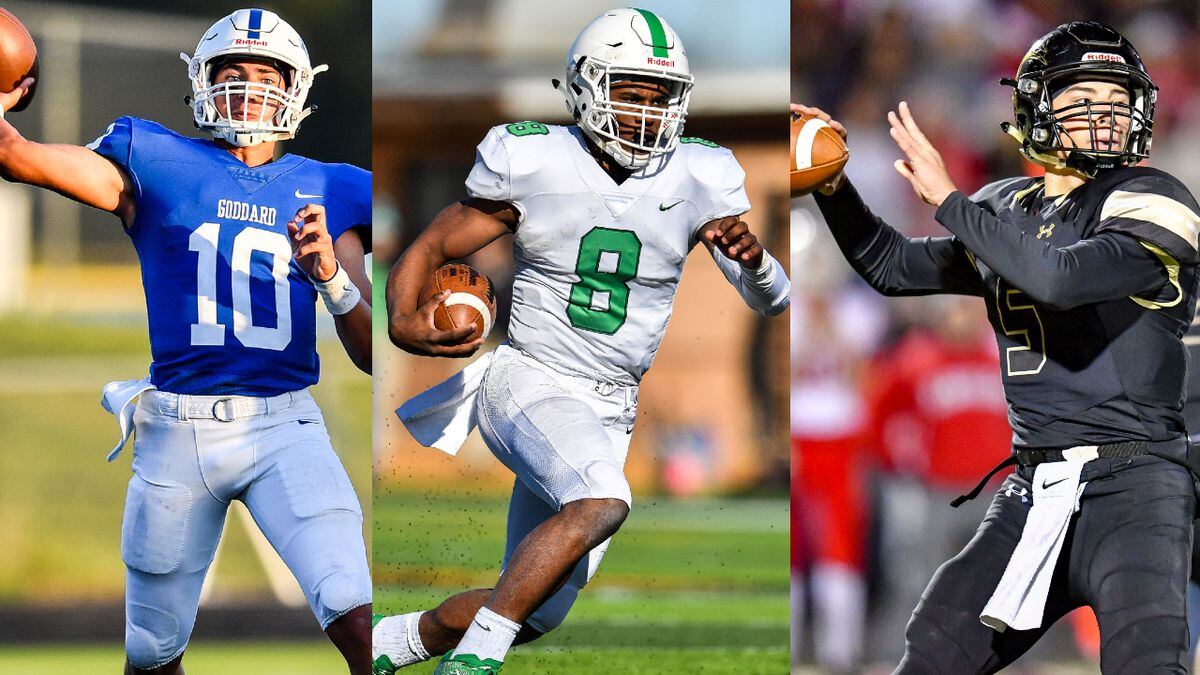 Published: Aug. 7, 2020 at 4:38 PM CDT
WICHITA, Kan. (Catch it Kansas) -
Catch It Kansas will be rolling out its positional rankings for QBs, RBs, WR/TE/Hybrids, OLs, DLs, LBs, DBs, and Specialists, along with Preseason Rankings as the 2020 Football Season approaches. Players will be listed once at a position, including standout two-way players, such as St. Francis' Shadyron Blanka and Southeast of Saline's Jaxson Gebhardt. First up, quarterbacks – a very deep positional group that features a high number of talented signal callers who are also strong academic student-athletes.
1. Lem Wash, Derby – A Class 6A first team all-state KPreps selection, Wash helped Derby again roll through to a dominant 6A crown. Wash took over after Grant Adler's injury and finished with 1,211 rushing yards, 851 passing yards and 41 TDs accounted for. Derby went 13-0 and outscored teams, 701-155. The 5-foot-11, 205-pound Wash went over 170 yards rushing and 100 yards passing in the 6A title game. The senior has official offers from Missouri State and Butler County CC.
2. Ty Black, Shawnee Mission Northwest/Sunflower League – An Air Force commit, Ty Black is the son of Shawnee Mission Northwest coach Bo Black, who also coached Great Bend and Hays. In '18, Black passed for 2,695 yards. Last year, Black passed for 2,655 yards with a 24/8 TD/INT ratio for a 7-3 squad that averaged 37 points a game. Black finished in the top-five in Kansas in passing yards and also rushed for 700 yards and 15 scores.
Black could become one of a very few Kansas quarterbacks ever to exceed 8,000 passing yards. The Sunflower League also features Lawrence's Jackson Dooley (2,125 passing yards last year) and Olathe South senior Reed Smith, who carries a Benedictine offer. Smith delivered 1,116 total yards and 11 TDs last season, and 1,241 passing yards two years ago.
3. Timothy Dorsey, Bishop Miege – The 6-foot, 187-pound Dorsey has committed to Illinois State in early August. Dorsey lost its top-two wide receivers, both high-level Division I players, with Daniel Jackson and Phillippe Wesley. Jackson, after he set a state record for single season receiving scores, signed with Minnesota. Wesley transferred to California and committed to San Diego State. Running back Brison Cobbins went to Missouri Western.
However, no team reloads like Miege, which is going for its Kansas record seventh straight state title. Tight end Mack Moeller has multiple offers, including FCS and has excellent combine numbers. Miege, 11-2 last year, will again be heavily favored in 4A. Dorsey threw for 3,026 yards and 46 TDs.
4. Colin Shields, Maize South – Shields will be a three-year starter for the Mavericks and is 16-2 since he took over. Shields has a great arm and has impressed on the summer circuit, including picking up a Wayne State (Neb.) offer. Maize South finished 10-1 last season and averaged 25.7 points per contest. Shields cleared 1,250 passing yards last year after 1,406 passing as a sophomore. The 6-foot-1.5, 200-pound Shields carries a 3.87 GPA and 28 ACT. Maize South returns a host of talent, including lineman Logan Bolinger (6-5, 295), who recently picked up a Butler County CC offer.
5. Kyler Semard, Goddard – One of the state's most well-known players, Semrad has significantly played all three years. As a sophomore, Semrad helped Goddard to a state runner-up appearance. He played very well in the first half of last year before a season-ending knee injury. Goddard slipped back to 4-6. Semrad is healthy now and is arguably the most indispensable player on any team in Kansas. Goddard returns just one starting offensive lineman with Rhett Brown. No returning player rushed for more than 171 yards, and one of the top-four receivers are back. In his career, Goddard is 20-6 when Semrad plays in a game.
Like Shields, the 6-foot-1, 190-pound Semrad is a great student with a 4.235 GPA. Last year, Semrad completed 58 percent of his passes with a 13/2 TD/INT ratio. In his career, Semrad has thrown for 3,507 yards with 56 percent and a 40/18 TD/INT ratio. In the four full games that Semrad played in '19, Goddard averaged 30.8 points per game. In the other six, the Lions averaged 12 points a contest.
6. William Welch, Perry-Lecompton – Perry-Lecompton made a surprising run to a Class 3A runner-up finish last year, including a pair of wins against Topeka Hayden. Welch completed 169 of 265 passes for 2,316 yards with a 27/6 TD/INT ratio. P-L also returns running back Thad Metcalfe, who rushed for 1,364 yards, along with three players who cleared 100 tackles. The Kaws are an elite 3A contender.
7. Cooper Marsh, Mill Valley – Mill Valley has captured 5A titles in '15, '16 and '19 from the Eastern Kansas League, the state's top conference. MV moves to the Sunflower League and has multiple Division I players, including lineman Ethan Kremer and kicker Chris Tennant. Marsh completed 121 passes for 233 yards with 2,018 yards with a 20/13 TD/INT ratio. He also finished with 167 carries for 924 yards and 10 TDs.
8. Jake Wolff, Blue Valley/EKL QBs – The 6-foot-2, 213-pound Wolff has a Division I offer from Akron. A 4.3 GPA student with a 465-pound squat, Wolff helped BV to an 8-4 record and 6A semifinal appearance. Wolff passed for 2,118 yards with 16 touchdowns. In addition to Wolff, Blue Valley North returns Henry Martin in the Eastern Kansas League, along with Blue Valley Southwest senior Tanner Curry (1,883 yards) and Blue Valley Southwest junior Mikey Pauley (1,861 yards). Also in the EKL, Aquinas senior Blake Anderson returns after 1,293 yards.
9. Tanner Cash, Clearwater – Clearwater has improved from 1-8 to 4-5 to 7-3, and senior Tanner Cash enters his third year as a starter. Last year, the Indians averaged 26.1 points per contest, the best scoring offense since before '06. Cash has exceeded more than 2,000 yards of total offense in each of the last two years and set several school marks. Cash has Washburn and Hutchinson CC offers.
10. Torrey Horak, Rossville – Rossville, possibly the 2A preseason state favorite, returns all but two starters. A junior, Horak passed for 1,007 yards with a 17/9 TD/INT ratio, and rushed for 1,214 yards and 16 TDs. His two older brothers each played in the Shrine Bowl for Rossville, and Tucker Horak is the state's all-time leader in total yards.
11. Lance Hoffsommer, Sedgwick – Sedgwick finished 9-1 and averaged 41.8 points per game in another high-octane offense for the Cardinals and coach Jeff Werner. Sedgwick has tallied at least 34.1 points per game every season of the last decade. Hoffsommer passed for 2,754 yards in '19. The Cardinals are 17-3 in the last two years.
12. Kayde Rietzke, Leoti-Wichita County – Known for his elusiveness and speed, Wichita County's Kayde Rietzke enters his third year as a starter. Possibly eight-man's best skill player, Rietzke helped WC to a semifinal showing, which tied the best finish in school history. Last season, Rietzke completed 139 of 198 passes for 1,862 yards with a 32/3 TD/INT ratio. He rushed 235 times for 1,670 yards and 25 scores. WC returns a significant number of key players, including running back Jesse Gardner, from a team that averaged 56.7 points per game. WC will be a preseason top-5 team in Eight-Man, Division I.
13. Colton McCarty, Bird City-Cheylin – The 6-foot, 188-pound McCarty has picked up several offers, including NAIA Benedictine. McCarty, with a 4.0 GPA and 4.56 seconds in the 40-yard dash, is an elite player. McCarty led Cheylin to a six-man runner-up finish to Moscow last year.
Cheylin returns every significant player from '19. McCarty passed for 1,1,52 yards with a 19/2 TD/INT ratio, along with 2,162 rushing yards and 38 scores. McCarty is the state's most recognizable six-man player. He, Andrew Schields, and Tyler Sabatka are an outstanding skill position group. Cheylin is the preseason six-man state favorite.
14. Dayne Aschenbrenner, Manhattan/Andrew Khoury, Junction City – Similar to Shields, Semrad and Black, Aschenbrenner is a large-school quarterback entering his third year as a starter with high academics. Manhattan is 10-2 and 9-2 in the last two years. The Indians' offenses in the last two falls are the program's second and third best since '06. Aschenbrenner passed for 956 yards and rushed for 1,041 with 24 offensive scores. Manhattan's big rival, Junction City, returns quarterback Andrew Khoury, who threw for 2,342 yards. Aschbrenner has significant interest from high academic Division III schools.
15. Jackson Miller, De Soto – Miller posted 4.44 seconds in the 40-yard dash, best among quarterbacks and fourth-best among more than 450 athletes at the Sharp Combine in Salina in mid-July. Miller was also fourth in pro agility among all competitors with 4.07 seconds. De Soto finished 10-1 and averaged 43 points per game. The 6-foot, 180-pound Miller has above a 4.0 GPA. He will be a three-year starter. He has offers from Quincy University, along with Hutchinson and Garden City Community Colleges.
16. Aiden Niedens, Bishop Carroll – A three-year starter, Niedens helped BC to back-to-back 8-3 seasons. He has cleared 3,000 passing yards. Carroll has only lost to Northwest (0-4) and Derby (0-2) in the last two falls. Niedens has delivered several comeback wins in his tenure, including Great Bend and Kapaun two years ago.
17. Bo Dilliner, Anderson County – A multi-purpose threat, Dilliner enjoyed a huge game with 353 rushing yards against Parsons and is one of Kansas' top dual threat quarterbacks. Dilliner looks to lead Anderson County to its first playoff victory in school annals.
18. Cory Macon, KC Washington – Like Dilliner, Macon, who has a Benedictine offer, looks to lead Washington to its first playoff win. The left-handed Macon threw for 993 yards, rushed for 282 yards and accounted for 15 offensive scores.
19. Leyton Cure, Goodland – The 6-foot-3, 214-pound Cure has posted 4.78 seconds in the 40-yard dash and has four offers. He cleared 2,700 offensive yards and 100 tackles and was first team all-conference at QB and DB.
20. Dylan Dreiling, Hays High – A Tennessee baseball commit and a returning HHS quarterback, Dreiling is expected to take another big step for the talented Indians. Hays High went 4-6 last season and returns running back Roy Moroni, all-purpose threat Jaren Kanak and defensive end Gaven Haselhorst. Kanak has KU and K-State offers, and Haselhorst has committed to Kansas State. Dreiling exceeded 1,450 total yards and was known for his tough running. Dreiling is the grandson of Frank Leo, who coached Hays High baseball for 39 years.
21. Caden Crawford, Lansing – Best known thus far in his career for defense, the 6-foot-4, 230-pound Crawford has offers by Kansas State, Nebraska and Oklahoma State. A junior, Crawford is expected to play quarterback and linebacker. He started at linebacker as a sophomore and is expected to have a breakout season. Crawford delivered 36 tackles last season, though had played QB as a freshman in Liberty, Mo. Before he transferred to Lansing. His sister, Caroline, was an All-American volleyball player and will be a KU volleyball freshman this fall.
22. Mason Haxton, Hoisington – A standout football and basketball player, the 6-foot-1, 170-pound Haxton passed for 521 yards, rushed for 652 and accounted for 18 offensive scores. Hoisington has reached the sub-state title game the last two years, tying the best finish in school history. Haxton, who has a Bethel College offer, helped the Cardinals finish in top-4 in scoring offense and defense. Haxton also collected 14 points, six rebounds and four assists a game in basketball. Hoisington scored 42.4 points per game, though has to replace Wyatt Pedigo, Top 11 all classes and the school's all-time leading rusher.
23. Parsons' Ethan Houk – Parsons slipped back to 2-7, though Houk put up big numbers as a junior. He completed 144 of 273 passes for 1,754 yards with a 20/13 TD/INT ratio. Houk rushed 60 times for 358 yards and four scores, all second-most on the squad. Parsons recorded all of its rushing yards from non-seniors last fall.
24. Jayden Garrison/Graham Stephens, Little River – Both Redskins saw time at quarterback last fall for new coach Kevin Ayers. LR finished 9-2 and reached the state quarterfinals. Ayers, with three state titles, has won 167 games in 20 years. Garrison, also the reigning 1A Basketball Player of the Year, elected to come out for football last fall. Both played quarterback in '19, though Stephens was hurt part of the fall. Garrison completed 41 of 68 passes for 444 yards with an 8/4 TD/INT ratio, and Stephens threw for 395 yards with a 6/0 TD/INT ratio. Garrison rushed for 1,234 yards with 26 scores, and Stephens delivered 682 yards and 19 TDs.
25. Cameron Beardsley, Valley Heights – The likely preseason No. 1 team in Class 1A, Valley Heights returns four-year starting quarterback Cameron Beardsley. He posted more than 1,200 yards and accounted for 16 scores. VH has averaged between 38 and 40 points each of the past four seasons in the triple option.
26. Hodgeman County's Isaac Salmans/Grant Schoenrock, Victoria/Experienced 8-man QBs – The 6-foot-3, 215-pound left-handed Salmans has significantly played since his freshman year. The last of the three Salmans brothers, Isaac has thrown for 2,641 total yards with a 35/5 TD/INT career ratio.
Schoenrock, a junior, won a playoff game as a freshman starter and started all season for 6-3 squad that averaged 48.4 points per game. He cleared 1,000 rushing yards and 600 passing yards. Schoenrock and senior running back Jayvon Pruitt form a strong 1-2 combination. Victoria drops down to Eight-Man, Division II.
Also out west, Wheatland-Grinnell junior Troy Vincent has fought some injuries, but has plenty of experience with 112 of 213 career passing for 1,541 yards with a 21/9 TD/INT ratio. As well, Logan-Palco junior Dylan Van Laeys is like Schoenrock and Vincent – a junior with substantial playing time since his freshman year.
Van Laeys has thrown for 1,169 yards with a 19/12 TD/INT ratio in his career. WaKeeney-Trego senior Kobi Shubert is a three-year starter. He threw for 1,257 yards with 13/3 TD/INT ratio. Medicine Lodge senior Josh Bowman threw for 1,739 yards with a 25/11 TD/INT ratio in '19. Lebo's Devan McEwen had 2,200 yards and 36 offensive scores last fall.
27. TVL 8-man QBs - Axtell sophomore Isaac Detweiler was an all-state wide receiver as a freshman and stepped in at QB when Quinn Buessing was injured. Buessing graduated after a record-breaking career, and Detweiler is likely to take over. Axtell is at Wheatland-Grinnell in Week 1. Along with Axtell, Hanover and Frankfort each return key QBs in the Twin Valley League with Jacob Jueneman and Gavin Cornelison, respectively. Hanover's Jueneman completed 57 percent of his passes for 22 scores, and Frankfort's Cornelison passed for 875 yards.
Others to Watch/Intriguing Players: Daeonte Mitchell, Wichita East – Mitchell, a highly talented freshman, is one of several quarterbacks who could break out this year. East, which plays host to Hays High in an intriguing Week 1 contest, has multiple Division I players, including wide receiver Daylan Jones. East has not won the City League since '84. … Hugoton's Sawyer Harper (1,804 passing), Pleasanton's Dale Gillespie (1,872 passing), Oakley's Eric Cain (1,339), Hillsboro's Matthew Potucek, Riverside's Kobe Davis, Ellis' Tegan Cain (1,146) all strong returning starters.
Copyright 2020 Catch it Kansas. All rights reserved.